We've all been drinking a cold soda when the condensation on the side drips off. You may notice that whatever is under the water drop is magnified. That's a simple version of a liquid lens.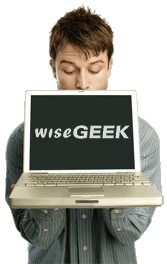 A liquid lens uses the properties of two different liquids within a small space to provide magnification. Water and oil do not mix, and are both safe and inexpensive, so they are perfect for use in a liquid lens. The mixture of water and oil is sandwiched between two pieces of clear glass or plastic. In this way, a light, cheap liquid lens is created.
Because water adheres to glass or plastic, it naturally forms a bubble shape. This bubble shape within the liquid lens creates magnification and variable focus. The oil component of the liquid lens fills in the rest of the space to keep the water from sloshing around.
Any gadget which requires a small, light lens can benefit from the use of liquid lens technology. Cell phone cameras, small digital cameras, and many other types of consumer electronics use liquid lens technology not only because of the weight and cost savings, but also because the water naturally creates a flawless lens. In the same way that the lens of the human eye changes focus by changing its shape, a liquid lens is able to change focus as well. By altering the size and shape of the water drop within the liquid lens, the camera can change focal length. This would be more difficult with a standard lens, because the lens cannot change its shape, and so it must be physically moved to change the focus.
Liquid lens technology has a wide range of applications. Because the liquid lens is so small, light and inexpensive, it can easily be incorporated into a variety of objects. Soon every laptop might come with a built in webcam made from a liquid lens. One of the few disadvantages of a liquid lens made with water is that it is subject to freezing at low temperatures. If you have a cell phone or camera with a liquid lens, be careful not to expose it to very cold temperatures for long periods of time, or you could damage your liquid lens by freezing the water inside it.
Man holding computer