What is a Home Face Lift?
A home face lift is a way to tighten and lift sagging facial skin at home. There are natural ways to gently firm up the facial skin using certain kinds of food. Specific brands of creams and lotions can be used, which claim to have a tightening effect on the skin. Unlike a surgical face lift that can be expensive, time consuming, and painful, a home face tightening remedy takes little time and costs almost nothing. A home face lift will probably not produce dramatic results but it can tighten the skin temporarily.
An egg white mask can be used as a home face lift. Egg whites are applied to the face and neck and allowed to dry. When this mixture completely dries it can be rinsed off with cool water. After the procedure, the face will feel revitalized and firmer. Lysozyme is an enzyme found in egg whites, which is responsible for the tightening sensation felt in the face during this procedure.
Exercise is another way to tighten the face naturally. This is called facial toning and it consists of moving certain areas of the face to firm up the skin. It helps to reduce sagging and to rebuild the dropping muscles in the face. Facial toning is considered to be the safest way to get a home face lift but it can take several months to see any kind of improvement.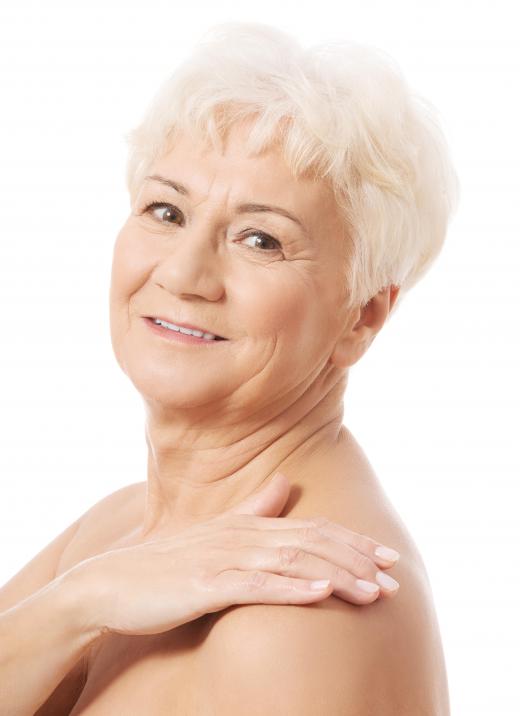 Face lift creams and lotions can help to eliminate fine lines and wrinkles and also tighten up facial skin. These contain vitamins that help to replenish the skin. These vitamins also contain antioxidants, which are known to fight off free radicals and environmental damage due to air pollution or cigarette smoke. Creams can also keep the skin hydrated, which can plump up wrinkles, making them less visible. Using firming lotions and creams is another way to get a home face lift quickly and inexpensively.
A laser lift machine uses a low-level light to combat the signs of aging, which is also considered a home face lift remedy. This machine can be used at home and it considered safe and effective. It is a non-surgical procedure and it is used in combination with a skin tightening serum. Using acupuncture principals, it enhances the overall appearance of the face. A laser tipped pen is used to deliver the light to specific areas on the face.
AS FEATURED ON:
AS FEATURED ON:

By: CandyBox Images

Specific brands of creams can be used to lift and tighten sagging skin.

By: Piotr Marcinski

Face lift creams can help to eliminate fine lines and wrinkles.

By: spotmatikphoto

Some aestheticians offer laser procedures that are often a better option than a traditional facelift.

By: armina

Face lift creams may offer a less invasive method for tightening facial skin than injections.

By: Hunor Kristo

Cigarette smokers often develop wrinkles that make them appear older than those who don't smoke.

By: danr13

A home face lift is a cheaper, less painful alternative to a surgical face lift.

By: brankatekic

Facial toning is considered to be the safest way to get a home face lift.