What is a Hairdressing Salon?
A hairdressing salon is a business that focuses on cutting, coloring and styling customers' hair. Many hairdressing salons are located in shopping areas in towns and cities. Smaller salons may have several hairdressers, while a large salon may employ dozens of hair stylists. The services offered at a hairdressing salon may include nails, makeup and skin care as well as hair cutting, coloring and styling.
Most hairdressing salons have a reception desk and a waiting area near the front door. The more upscale, trendy and expensive salons tend to require customers to have an appointment, while the budget chain hair shops usually don't. The décor also varies widely between an expensive and an inexpensive hair salon.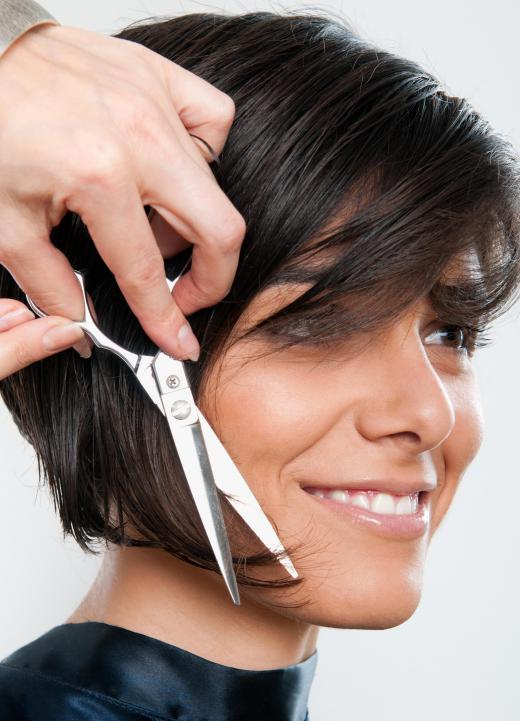 All hair salons have hairdressing stations. Typically, they're in a row along a countertop and mirror attached to a wall. Each station has a chair that is usually padded for comfort. The hairdresser adjusts the chair to each customer and spends time discussing the cut, color and/or style the person wants. Each hairdressing station in a salon typically has a wheeled cart that holds hair supplies.
Hair stylists use tools such as shears, or scissors, curling irons and hair straightening devices. A hairdressing salon usually offers hair washing services and in smaller shops, there may be only one sink area reserved for this. Many quick cut chain salons that don't require appointments, don't wash hair, but rather expect clients to have their hair recently washed to save time.
It's expected for customers of hair salons to leave a tip. Much like tipping a waiter or waitress, the client of a hairdressing salon can simply leave some cash on the hairdresser's table before leaving the shop. The percentage of the average tip varies depending on the location, but customers very pleased with the cut or style the hair stylist did are likely to leave larger tips.
Most hairdressing salons offer a wide range of hair services from simple trims to elaborate hairstyles for special events such as weddings. If a customer is having a time-consuming hair procedure done such as color processing that has a waiting period, the hair stylist or salon owner may offer the client coffee and a magazine to read. A hairdressing salon often sells the particular line or lines of hair products they use on customers. Most salons attractively display these products on shelves near the waiting area.
AS FEATURED ON:
AS FEATURED ON:

By: Rido

Hair cutting and styling are common hairdressing salon services.

By: Friday

Hair washing services may be offered at a hairdressing salon.

By: Africa Studio

Hair coloring and lightening may be offered at a hairdressing salon.

By: furmananna

Many salons offer specialized services such as hair styling for weddings.

By: gemenacom

Small salons typically employ several hairdressers.

By: Africa Studio

Hairdressing salons use tools like curling irons to style hair.