A grant deed is a legal document used to transfer the title of real property from one party, called the grantor, to another, the grantee. Real property is commonly defined as land and anything that is attached to it, growing on it, or extended from it that cannot be taken away without damaging the land. A grant deed states that the grantor grants a title or interest in the property to the grantee, and makes two guarantees concerning the property: that the grantor owns the property free and clear and has not sold it to anyone else, and that no other party has a lien, or legal right, to the property being transferred. Once a grant deed is signed by the parties, the grantor immediately gives up all rights, interest, and ownership of the property and has no further control over it.
What is contained in a grant deed may vary by jurisdiction, but generally grant deeds contain a written record of the transaction, some sort of legal statement that describes the transfer of property from the grantor to the grantee, and the legal names and addresses of the buyer and the seller. The deed may also include an official description of the real property and the grantor's signature, along with his acceptance of the grant deed. Most grant deeds are witnessed by an official, such as a notary public, but they do not normally have to be notarized. A grant deed normally must be delivered to and accepted by the grantee to be valid. Grant deeds also should typically be filed, or placed on public record, at the office of the local recorder of deeds near to where the property is located.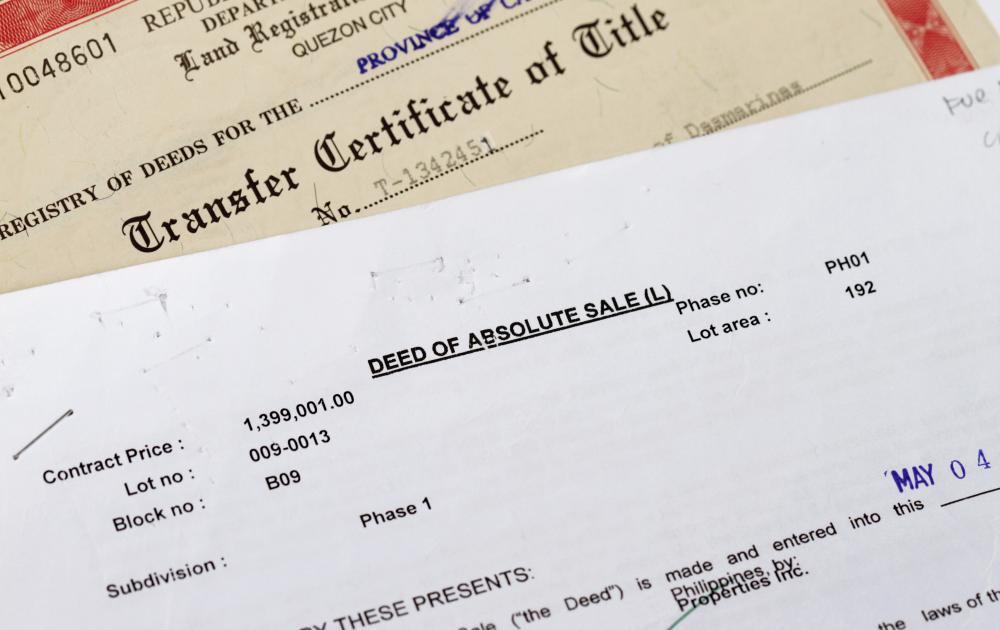 Besides grant deeds, there are other types of deeds used to transfer ownership of real property. A quitclaim deed, for example, also transfers property rights, interest, and ownership from the grantor to the grantee, but it does not usually guarantee that the grantor's ownership is free of liens. To confirm that the title to the property is free and clear of claims, a title search may be done through a title company or local government office.
A deed of trust may also be used to transfer property. It is similar to a mortgage and can be used to transfer real property title to a trustee until the loan is repaid by the grantor. The property is used as collateral for the loan, so if the borrower does not make the loan payments, the property can be foreclosed and sold at public auction.
Another type of deed used to transfer ownership is a warranty deed. This type of deed makes all the guarantees that a grant deed does, with one additional promise: to defend the title against all claims brought by a third party. With the execution of a warranty deed, the grantor is basically insuring the title.