As delicious as red wines can be, they all share one condition: sedimentation. As red wines age, crystals of potassium bitartrate form in the liquid and eventually settle to the bottom. This can cause vintage red wines to taste bitter and prevent younger red wines from reaching their fullest flavor potential. The solution to this problem lies in a vessel called a decanter.
A decanter does not address the sedimentation problem directly. Instead, it receives the clarified wine after the contents have been carefully and slowly poured from the original bottle. A wine enthusiast will start the decanting process by unsealing a red wine held in storage. Traditionally, a candle is lit for low-level illumination. The original bottle's neck is positioned in front of the flame in order for the pourer to see the darker sediments.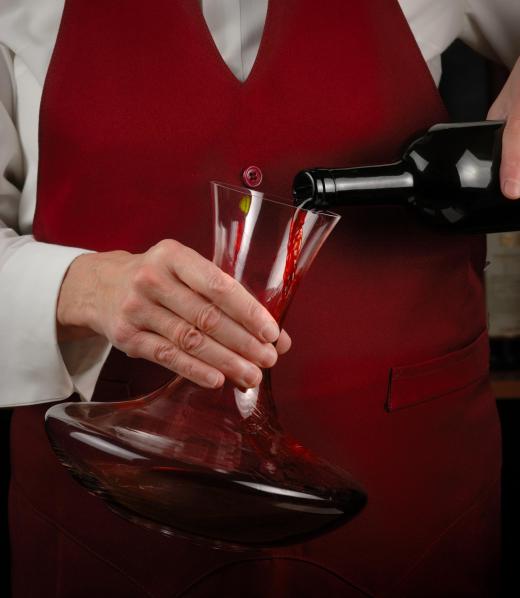 The container itself is placed under the lip of the bottle to receive the clarified wine. Once the majority of the red wine has been poured into the decanter, it is stoppered to prevent spillage. A small portion of the wine remains in the original bottle along with the insoluble crystals and sediments. Some may choose to leave the container unstoppered for a time, especially if the wine is relatively young.
The appeal of this container is not always in its function, but often in its form. They are quite often carved from lead crystal or other decorative glass. The neck is usually narrow and tall, which gives the vessel a certain elegance and fragility. A quality bar set with a wine service should always feature a decanter and red wine glasses.
Many wine enthusiasts will not use a decanter until the very day a vintage red wine is due to be opened. This container is not necessarily suited for long-term storage of wine, but rather as a receptacle for wine served during a dinner or other event. A newer red wine intended for table use may benefit from the aeration created during decanting, but experts say swirling the wine in a proper glass will provide more. The container allows other flavors to blossom within the wine, which some wine experts call allowing the wine to "breathe."
AS FEATURED ON:
AS FEATURED ON:

By: Stefano Tiraboschi

Wine is poured into a decanter to allow the beverage to breathe.

By: caimacanul

A quality decanter and a variety of wine glasses are great additions to a home bar.

By: Constantinos

Decanters may also be used to hold and store different types of liquor, such as whiskey.