What Is a Cheesy Broccoli Casserole?
A cheesy broccoli casserole is a hot baked side dish. It may be prepared for Thanksgiving, Christmas or other festive get-togethers, but can also be part of any meal. As the name implies, the main ingredients for this dish are cheese and broccoli. A number of variations to the recipe are available in printed cookbooks and online, and the recipe can be varied to reflect the tastes of the family who will be eating the casserole.
Broccoli is one of the main ingredients in a cheesy broccoli casserole. Depending on the recipe being used, this ingredient may be fresh or frozen. The person preparing the dish should follow the directions carefully to ensure that the casserole is prepared properly. If frozen broccoli is being used, the directions may call for it to be thawed first. Fresh broccoli may need to be boiled or steamed before adding it to the other ingredients.
Cheese is the other ingredient in the name of the casserole, and some recipes call for cheddar or another hard cheese. A cook who wants to experiment with different varieties could choose to use sharp or extra sharp cheddar for a more intense flavor. Cream cheese is on the ingredient list for some recipes, and this option helps to give the casserole a creamy texture. Cubed process cheese may be used instead of a hard cheese, and this ingredient will melt smoothly when the cheesy broccoli casserole is cooking.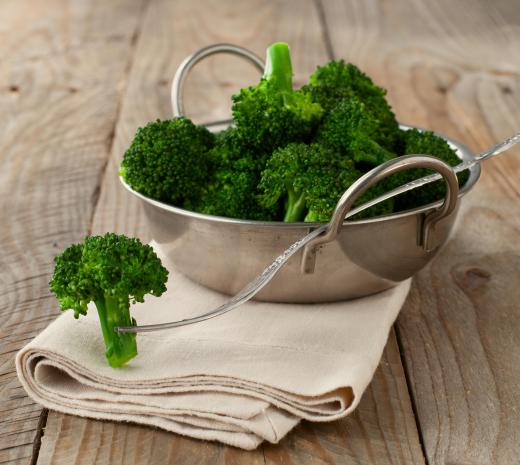 Adding a condensed cream soup to the other ingredients for a cheesy broccoli casserole gives it a smooth consistency and helps to hold it together. Some recipes call for a combination of cream of mushroom and cream of chicken soup, while the ingredient list for others only includes cream of mushroom soup. Cooks can also add a can of mushrooms, some chopped onions or other items to the mixture to give the dish an interesting texture.
Some people preparing a cheesy broccoli casserole add a crumb topping to the dish before placing it in the oven to bake. Bread or cracker crumbs may be used for this purpose. Adding this ingredient gives the broccoli casserole an attractive appearance and helps to keep the ingredients moist.
AS FEATURED ON:
AS FEATURED ON:

By: Nitr

Fresh broccoli may need to be cooked before it's added to the casserole.

By: anjelagr

When making a broccoli casserole with cheese, shop for bright green broccoli with small, unopened florets.