What Is 3D Origami? (with pictures)
3D origami is a type of paper craft that starts in a way somewhat similar to standard origami, but instead creates a three-dimensional (3D) model of an object. Origami in general is an art form in which an object or model is created using only paper that is folded into a variety of shapes. 3D origami, on the other hand, uses dozens or hundreds of small paper triangles, interlocking them to create 3D models that are much more elaborate and complex than those forms made through traditional origami.
Also known as Chinese origami or Golden Venture origami, 3D origami basically creates a 3D sculpture of a shape or model through the use of connected paper triangles. The origin of this art form is debatable, though it is typically linked to a Chinese source, rather than standard two-dimensional (2D) origami that has a Japanese background. This type of origami was first noticed in the US and some other areas when Chinese immigrants, illegally smuggled into the US on a ship named the Golden Venture, were detained for a period of time. During their detention in the US, they created numerous origami sculptures and gave them to those who helped them.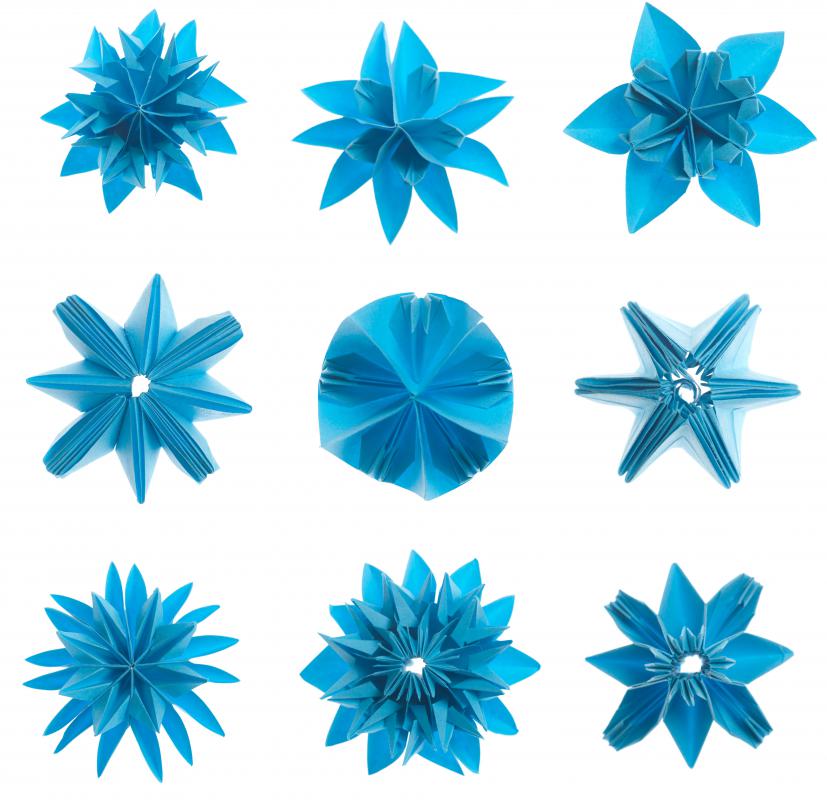 3D origami begins with the creation of numerous small paper triangles, which are then used to create the actual sculpture. These triangles are created using a relatively small strip of paper that is folded in a particular way to create a triangular form with two "tabs" and two "pockets" on opposite sides of the triangle. This allows each triangle to be inserted into another triangle, by inserting the tabs into the pockets, allowing them to be joined together. The origami is created by joining these triangles together in a particular way to create a certain shape, allowing for a virtually endless number of possible shapes.
A very simple piece of origami, such as a star or a candy cane, might only take a few dozen of these triangles. Much more elaborate pieces, however, such as animals, cartoon characters, and sculptures of larger objects, can require hundreds or even thousands of individual triangles to be folded and assembled. There are numerous websites and books that can be used by someone interested in learning 3D origami, usually beginning with how to fold the paper triangle and then moving on to patterns that use these triangles. This is a fairly time-consuming art form, but the final pieces are more durable and can be displayed more easily than many 2D origami forms.
A 3D origami Christmas tree.

A 3D origami penguin.

3D origami snowflakes.