What Are the Different Types of Traditional Origami?
Traditional origami can be used to make a wide range of different shapes and creatures, and they are typically categorized based on what is created and how difficult the project is. Animals are some of the most common and popular origami creations, and these include various birds and insects as well as foxes and frogs. There are also a wide range of shapes and designs that can be made with traditional origami, including stars, boxes, and hats. The folds used to create origami shapes can be fairly simple or quite complex, so different designs are often organized based on the level of experience that is recommended for someone to make them.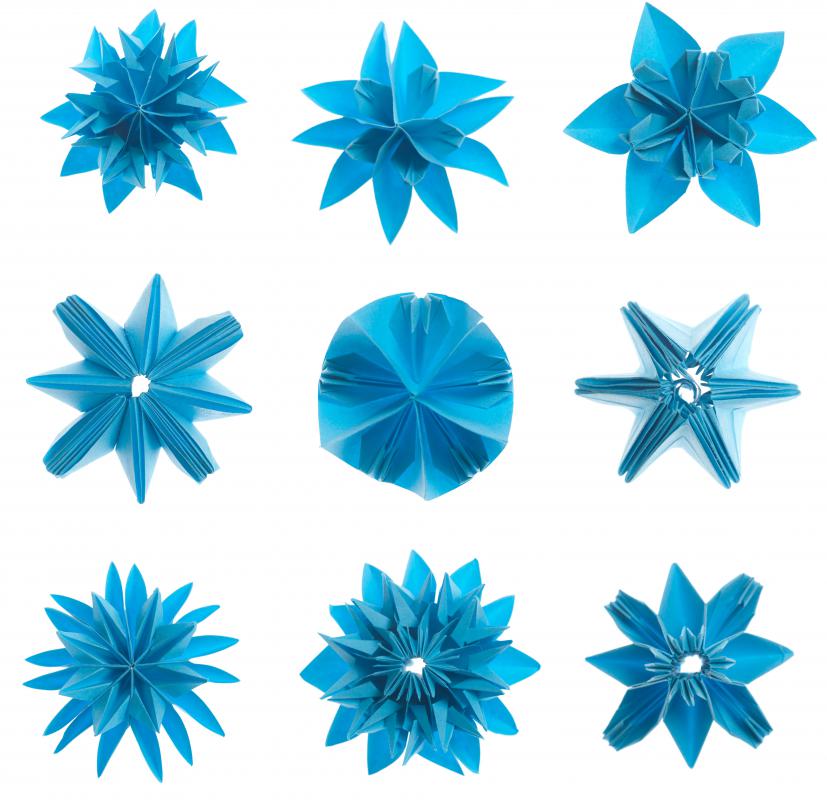 Different types of traditional origami are often based on the various shapes that can be made through certain applications. Animals, for example, are some of the most popular types of origami, and many different creatures can be made using only a single sheet of paper. The paper crane is quite well known and relatively easy to make, though it does require numerous steps and many different folds. Foxes, bears, and frogs can also be created with traditional origami, and these animals can take only minutes to create through various folds and combinations of methods.
There are a number of non-animal shapes and objects that can also be made through traditional origami, some of which can have very practical applications. Throwing stars, for example, are quite popular and can be made using two sheets of paper, which are folded carefully and fit into each other to create a single shape. Boxes, including those with both a top and bottom, can also be made through traditional origami and used for giving gifts or keeping various objects within them. Different styles of hats and even drinking cups can be created using paper, and these can be worn or used to drink from as appropriate.
Many types of traditional origami are categorized based on the difficulty of making the object created through them. Beginner objects are usually quite simple and often require fairly basic folds, even with multiple steps, to make. Intermediate items can be more difficult, potentially requiring numerous pieces of paper that fit together, and folds that are more intricate and complicated. Difficult varieties of traditional origami can take quite some time to complete and often require folds that must be practiced numerous times before they can be made quickly and easily.
Animals are among the most common and popular types of origami.

Origami can be quite complex.