What does a Passenger Service Agent do?
A passenger service agent ensures traveling customers receive friendly and efficient assistance as they prepare for and embark upon their journeys. The duties of a someone in this position normally entail processing ticket sales, refunds and exchanges. He regularly communicates with other providers to meet customer needs. The majority of passenger service agents work in the airline industry. A relatively small number of agents are employed by passenger train, bus or cruise ship companies as well.
The agent traditionally serves as a liaison between passengers and airline service employees to amicably and quickly resolve conflicts as well as physically assists ground personnel as needed. In addition to providing optimum customer service, the airline passenger service agent is normally expected to be knowledgeable in ramp operations, including baggage handling, passenger security checks and sometimes cleaning aircraft.
As most of his job entails customer communications, a passenger service agent's most valued assets commonly include courtesy and smooth conflict resolution skills. His ability to establish and maintain friendly communications with a wide range of personalities is also normally important to his success. His ability to remain calm and focused in the midst of highly-charged interactions is normally a desirable trait for this position. Strong computer skills often help him to quickly identify and resolve conflicts involving scheduling, seating issues, lost luggage and missed connections.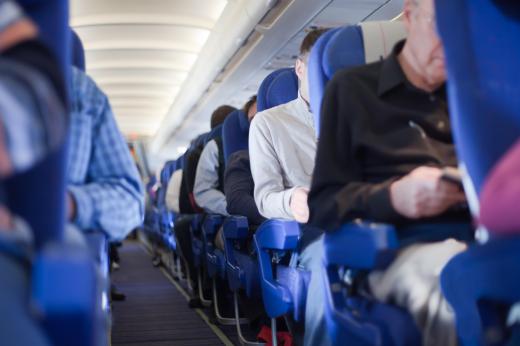 The passenger service agent may be found in various airport locations when he is not behind the counter providing customer assistance. He is sometimes required to help passengers confined to wheelchairs embark and disembark from aircraft. Operating passenger transportation carts throughout terminals and parking lots is a common job requirement as well. Retrieving and securing personal effects are other common duties of this position.
Since this job customarily requires physical exertion, a person in this position is generally required to be physically fit. He is often required to operate aircraft doors, luggage carts, baggage carousels, and loading bridges. In the event ill or injured passengers are traveling, he may be asked to assist in carrying stretchers or lifting passengers on and off of gurneys.
The agent typically communicates with other personnel via a cell phone or walkie-talkie. He is frequently called upon to make announcements on a public address system, so clear and professional communication skills are strongly preferred. In the event of an emergency, it may be necessary for him to communicate with passengers on a personal, one-to-one basis.
No formal education is required to apply for this position. A high school diploma or equivalent is normally required. It is helpful to have experience in customer service or pubic relations to qualify to be a passenger service agent. Health care experience as well as being fluent in more than one language are also considered valuable assets.
AS FEATURED ON:
AS FEATURED ON:

By: sallydexter

Passenger service agents may coordinate with walkie-talkies.

By: Pavel Losevsky

Many passenger service agents work for an airline, checking in passengers and handling customer complaints.

By: xcid

Passenger service agents may handle luggage for passengers.