What Are the Different Types of Airport Career Opportunities?
Airport career opportunities not only include working for airlines, but may also involve working for the airport or any businesses that are in the airport. Many different types of employees are required in order to keep an airport running smoothly. In general, airport career opportunities span many different categories of office jobs as well as many types of careers specific to the airline industry. Airline dispatchers, for example, are found primarily at airports and can be a lucrative career path in this industry. The types of airport career opportunities available depend on the specific airport, as not all of these facilities have the same needs due to the size or focus of the airport.
Some of the most important airport employees are involved in airplane safety and operations. People who work on or with planes directly often do not work for an airport but rather for an airline. Even so, these employees are sometimes stationed at a particular airport. Customer service agents at the door and ticketing also work primarily at a single airport, as do many managerial and office employees.
Technical employees in airports might be involved in keeping computers running and all equipment in working order. Additional support might be needed specifically by airlines to ensure that planes are in working order. Certain airlines that deal with shipping or other flights without passengers might have additional technical requirements relating to inventory and management.
In addition to airport career opportunities associated with a particular airline, there are also job opportunities unique to the airport itself. Employees who clean the airport may work in a number of different divisions, and the airport also typically has its own customer service staff. Security officers who work at a specific airport also have an important role to fill, although these professionals are not always employed directly by the airport.
Often, airports have a number of stores, restaurants, and other facilities that are run by outside companies. Careers at these stores do not always have benefits relevant to travel or flying, but they do often provide steady employment. Some companies place smaller versions of their stores in airports, and these smaller stores require a number of different employees because they often operate independently.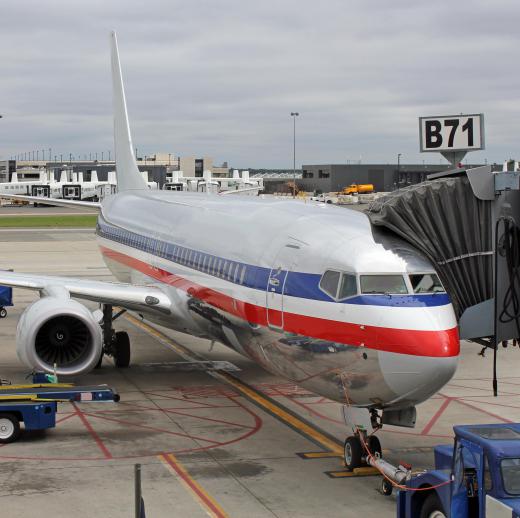 All airports also have higher-level airport career opportunities, which include jobs as managers, directors, and heads of various departments. Each of these positions requires a number of supporting positions, all of which can also be excellent career opportunities. Airports require many different types of employees, and each particular airport usually has a job site where various career opportunities are listed. On these websites, it is also often possible to find internships relating to various departments in airports.
AS FEATURED ON:
AS FEATURED ON:

By: roza

Security officers may find work at an airport.

By: lassedesignen

An airline dispatcher helps a plane's captain bring the flight in safely during an emergency.

By: Carlos Santa Maria

There are a variety of airport related jobs, including those in which employees work for the airlines themselves or for the airport.

By: Shutterbas

Many career opportunities exist at airports, including technical jobs, security jobs and customer-service jobs.

By: Pavel Losevsky

Airport workers who operate in the control tower are in charge of clearing a plane to take off or land.

By: Franz Pfluegl

Airport police officers are responsible for helping protect the safety of travelers in and near airport facilities.

By: James Steidl

Many airport employees work in security.