What does a Lifeguard do?
A lifeguard does exactly what the title implies: she guards the lives of swimmers in her geographic scope of responsibility. This entails not only monitoring swimmers in the water, but also those on beaches, docks, piers, and rafts. A lifeguard's job is to protect the entire swimming area.
The job is a serious one that requires the ability to observe many people of all ages and swimming abilities at the same time. These people may be confined to a pool area in hotels, municipal recreation areas, privately owned swim clubs, or schools, or be spread out along the beachfront of a river, lake, or ocean. A lifeguard must also supervise and control swimmers' behavior outside of the water to ensure the public safety and maintain a pleasant recreational environment.
The main function of a lifeguard is to make sure everyone in her charge is safe. To enhance the view of the area of responsibility, a lifeguard often sits in a tall chair overlooking the pool or beach area. In larger open water areas, lifeguards are frequently found in rowboats to patrol the area. Binoculars are standard tools for most lifeguards.
In addition to watching swimmers, lifeguards watch out for circumstances that may lead to dangerous conditions. Rough play that may lead to injury or playing with risky objects or toys in the water or on the beach is prohibited. If an injury occurs, lifeguards are trained to provide basic first aid and have access to emergency phone numbers and trained personnel for more serious incidents.
A person must not only be an expert swimmer and be able to calmly handle emergencies to become a lifeguard but must also be formally trained and certified. The minimum certification required depends on the location, but a Red Cross Advanced Lifesaving Certificate or the equivalent is usually necessary. The training course requires successful completion of 22 units of water safety instruction coupled with passing a test on approach and rescue techniques. A refresher course must be passed by lifeguards every three years to qualify them for continued employment in most locations.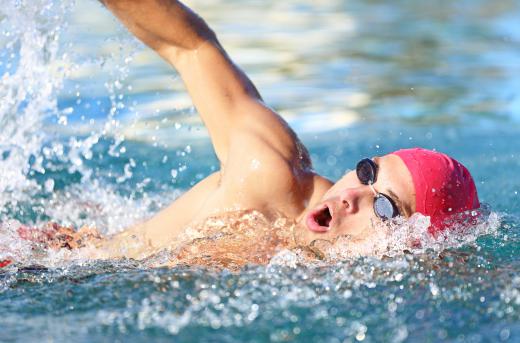 Being a lifeguard is often seen only as a summer job for young students since it is seasonal work in many parts of the country and usually does not demand a high salary or include benefits. It can become a full-time career, however, if employment is through a cruise line or for an indoor club or facility that needs lifeguards year-round. With extended training, a lifeguard can also become a water safety instructor or swimming teacher or coach, both of which pay considerably more than a lifeguard position.
AS FEATURED ON:
AS FEATURED ON:

By: vj

Lifeguard accessories may include whistles.

By: simon gurney

Lifeguards can be spread out along the beachfront of an ocean to keep swimmers safe.

By: Maridav

Lifeguards must be expert swimmers.

By: wellphoto

Lifeguards are expected to be able to perform the basics of first aid.

By: Tyler Olson

A lifeguard may receive training on how to check for a patient's pulse.