What are the Pros and Cons of DIY Vinyl Fence Installation?
Do-It-Yourself (DIY) vinyl fence installation has several pros and cons. Chief among the pros is the greater control over budget and workflow. A DIY project cuts out costs incurred when dealing with contractors and allows the homeowner to adjust the materials used according to his financial situation. This is especially important, as vinyl is more expensive than wood, the material traditionally used to make fences. The cons involved with DIY vinyl fence installation mostly stem from the homeowner's inexperience; the lack of technical skill and knowledge of materials might end up costing him more money and more time in the long run.
Home improvement projects such as vinyl fence installation are typically simple and flexible enough to be DIY. Several companies make the task even easier by providing building kits that include the materials needed to install the fence, as well as instructions for assembly. Many homeowners opt to use these kits for the ease, convenience, and savings that come with eliminating contractors from the equation.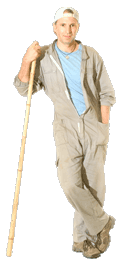 Although vinyl fence installation kits are affordable enough, homeowners also have the option of building from scratch. This allows homeowners to tailor-fit their projects according to their budgets and needs. Vinyl fencing is easily found in most building and home improvement stores. Many manufacturers also sell the materials online. Most individuals working on DIY vinyl fence installation often canvas the materials from multiple stores in order to get the most value for their money.
Homeowners also enjoy a greater sense of control over the progress of their DIY vinyl fence installation projects. Rather than working with a contractor as the mediator between him and the crew, a DIY homeowner can adjust every nuance of the project immediately. He can, for instance, readjust the height of the fence as soon as he decides that the current height isn't desirable. He can also change the plans on a whim if the original design wasn't suitable enough.
Working on a DIY vinyl fence installation isn't without its challenges, however. Much of the success of the project depends on the homeowner's expertise in construction. DIY projects typically do not have the same level of expertise put into them as those done by professionals. As such, the risk of committing errors or incorporating design flaws into the fence is highly increased.
Another major con to DIY vinyl fence installation projects is the time investment needed. Not only will the homeowner be spending many hours constructing the fence, but he will also end up using a significant amount of time canvasing and purchasing the necessary pieces. As a result, a DIY project might take anywhere from a few hours to a few days, whereas professionals typically get the job done in a single afternoon.
AS FEATURED ON:
AS FEATURED ON:

Worker