What Are the Different Types of Updos with Bangs?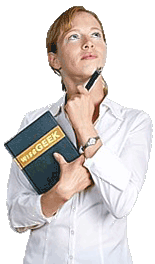 Updos with bangs basically fall into three categories: twists, braids, and curls. Some updos with bangs combine various features from all categories to give the updo a interesting look. Although most updos can be created with or without bangs, in many styles, the hair is pulled straight back, giving it a severe, stark look. Bangs can add softness and frame the face for a more flattering hairstyle.
The classic updo with bangs is the French twist. The hair is pulled into a low ponytail which is twisted upwards. The tail is tucked under the resulting vertical twist and secured with a comb or hair pins. The look is simple but elegant and has been a staple for formal occasions and professional situations alike for many decades.
Another twist style is the ballerina bun. Hair is pulled into a hair ponytail and twisted into a knot at the crown of the head. Depending on the hair's thickness, it may be secured with pins or an elastic band. The chignon is similar to the ballerina bun, but it's base is a low ponytail instead of a high ponytail. Both are common updos with bangs.
Both plain and French braids can also be used to create updos with bangs. With a French braid, the hair is plaited normally, but the tail is wrapped into a bun or tucked underneath the hair at the base of the neck to create an updo. An alternative is to braid from the nape of the neck up, creating an upside down French braid ending with a top knot.
Regular braids can be added to other styles of updos with bangs to add visual interest. For instance, a small section of hair can be set aside from a chignon or ballerina bun, braided, and twisted back into the bun. This is especially appealing in loose updos.
An updo can be created by curling the hair into rolls and securing with pins. The rolls are typically placed at the crown of the head to form a voluminous updo. Additional single ringlets can be formed with a hot curling iron to drape down the neck. Curls, like braids, can be incorporated into a variety of updos with bangs for added visual interest.
Most updos can be tweaked by adjusting the tightness of the hair, adding braids or curls, or placing the bun, twist, or curls in different areas of the head. Loose updos are especially unique, since the updo will turn out differently from person to person based on the texture and length of the hair and head shape. The bangs themselves can also be cut differently — sideswept, blunt and long, blunt and short, or feathered — affecting the overall look of the updo.
Woman holding a book