What are the Different Types of Hair Removal Cream?
There are many types of hair removal creams. Though they all perform the same function, there are different types from which to choose, depending on hair texture and even the part of the body on which it will be used. For example, a person with coarse hair may need a maximum-strength hair removal cream. A person with sensitive skin and fine hair, on the other hand, may need a gentle formulation. Besides variations in strengths, there are some hair removal creams that are specifically marketed for use on the face while others are for all-over use or intended for the arms, legs, or armpits.
Also called chemical depilatories, these creams are formulations used to act on a person's hair strands. They degrade a protein called keratin in the hair. Since keratin is the primary protein found in hair, this effectively breaks down the hair enough that it can be wiped right off the skin's surface. When a hair removal cream is used, there's no need to risk nicking the skin with razors or irritating it by pulling it from its shafts with tweezers.
Often, hair removal cream contains calcium hydroxide and potassium thioglycolate that combine to dissolve keratin and weaken body hair at its root. This allows the user to wipe the treated hair off her body without pulling at it. Calcium hydroxide is a base ingredient that works to change the texture of the user's hair. This prepares the hair for the potassium thioglycolate, an acid that has the job of causing the keratin to deteriorate.
Different brands of hair removal cream may contain different ingredients. They usually contain an acid and base that work together to destroy keratin, however. A hair removal cream that is designed for sensitive skin and fine hair may contain fewer harsh ingredients than those designed for use on normal skin and normal-to-coarse hair. Often, the sensitive skin creams also include ingredients designed to protect and heal the skin, such as aloe vera and shea butter. These ingredients are often included in dry-skin formulas as well.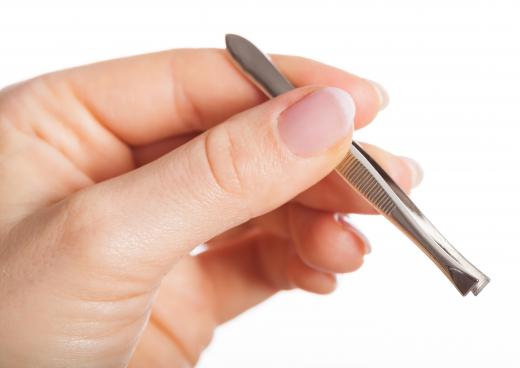 Some hair removal creams are designed specifically for use on the face. While other creams may remove hair from the face as well, many manufacturers warn against using them in this manner. The chemicals in regular removal creams are typically very harsh and can irritate delicate facial skin. In fact, a person may develop a painful chemical burn when using regular hair removal products on the face.
AS FEATURED ON:
AS FEATURED ON:

By: Artem Furman

Hair removal cream may be used to clear underarms of hair.

By: Africa Studio

Many women remove excess body hair before donning a bikini.

By: Photographee.eu

Straight tip tweezers are excellent for use on stubborn hairs.

By: ryupon

Hair removal cream for legs may not be the best option for facial hair removal.

By: ipag

Many hair removal creams contain calcium hydroxide and potassium thioglycolate, which together weaken body hair at the roots.