What are the Different Types of Flood Insurance Policies?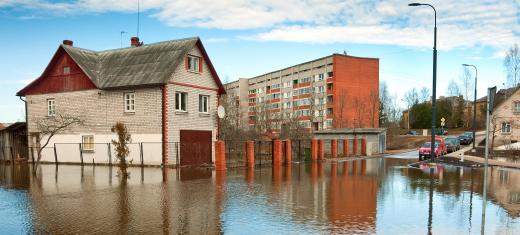 Flood insurance policies will vary according to the extent of the coverage the home owner or property owner chooses. A basic type of flood insurance policy is basic or standard coverage from property damage or loss. A more extensive type will include coverage to valuables lost or damaged inside the home.
With basic flood insurance policies, most benefits will include coverage for the framework and architecture of the building. With these policies, generally any damage to the property, including the interior or exterior walls, floors, or roof will be covered by the insurance policy. Heating pumps or air conditioning units may also be covered under most basic policies. Vinyl, wood, or tile floor coverings are also part of the coverage, as are rugs and carpets.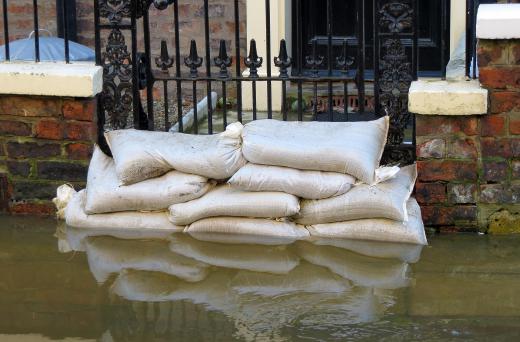 More comprehensive flood insurance policies would include coverage for valuables that are destroyed or damaged in a flood. This might include, but is not necessarily be limited to, home furnishings and other belongs such as clothing. Household items may also be covered for damage or loss. This may include televisions and stereos, as well as memorabilia with monetary or personal value. Collectibles and antiques may be covered in this type of flood insurance policy as well.
Other types of flood insurance policies will cover damage to property that is adjoined to the home. This may include an add-on property such as an attached garage or storage facility. Gazebos and patio decks may be covered in some plans as well.
Extended liability coverage is a type of flood insurance policy that protects a home or property owner against legal claims from an injured party. In the event of a person becoming hurt on the policy holder's property, liability coverage will guard against financial loss from an ensuing lawsuit. This extended policy may be added to the basic coverage.
If damaged property becomes uninhabitable or unfit to occupy, a loss of use flood insurance policy may cover additional expense for a new, temporary place to live. This coverage will typically pay a specified percentage of costs incurred during the time of repairs to the property. These percentages can vary depending on individual policies and companies.
Flood insurance rates will generally vary according to region and insurance company. Premiums may be influenced by whether a home is in a flood plain. These are typically decided based on flood maps drawn by government authorities. Homeowners who purchase property in a flood zone will typically be required to purchase a policy to meet the criteria set by local authorities.


By: Jaroslavs Filsh

Flood insurance can include basic plans that include coverage for damage to a home or building and more comprehensive plans that offer coverage for belongings inside.

By: Ronald Hudson

Residents living in low flood risk areas are likely to have lower insurance premiums than those living in flood plains.