What Are the Different Types of Cranberry Salad?
A versatile fruit that can be used fresh, frozen or dried in recipes, cranberry salads are plentiful. They can feature whole and jellied cranberry sauces, and a combination of fruits, vegetables and nuts, such as cranberry-apple Waldorf salad. Many salads include assorted flavors of gelatin, including raspberry, strawberry and mixed fruit. Some salads are also made to be served frozen, and some feature marshmallows for sweetness, such as cranberry fluff salad.
Cranberries work well in salad recipes when combined with other fruits, including oranges, bananas and pineapple. Grandma's cranberry-orange gelatin salad features cranberry sauce and orange zest. Pineapple cranberry salad features cranberry sauce and pineapple tidbits. Fresh cranberry salad features miniature marshmallows, crushed pineapple and banana. Cranberry apple salad features unsweetened pineapple juice, crushed pineapple and apple.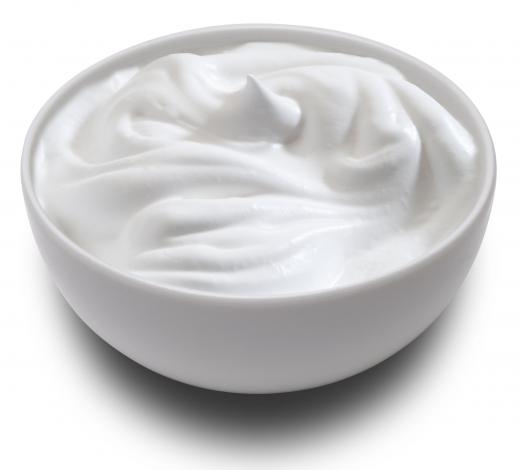 Many salads are made with various flavors of gelatin, such as strawberry, apple and mixed fruit. Cranberry-black cherry gelatin salad features black cherry-flavored gelatin mix, sour cream and whole cranberry sauce. Thanksgiving Day salad features strawberry-flavored gelatin mix, frozen strawberries and cream cheese. Cranberry gelatin salad features jellied cranberry sauce, dark sweet cherries and cherry gelatin. Cran-raspberry gelatin mold features frozen raspberries, cranberries and raspberry-flavored gelatin mix.
Using dried cranberries can add flavor and crunch to these salads. They are typically put through a grinder before being mixed in with other salad ingredients, such as crushed pineapple and pecans. Whole and jellied cranberry sauces can also be used in salad. Holiday cranberry salad features both whole and jellied cranberry sauce.
Flavorful cranberries also pair well with many vegetables, including spinach and celery. Cranberry spinach salad features baby spinach, chopped pecans and sour cream. Cranberry chiffon salad features chopped celery, whole cranberries and unsweetened applesauce. Chopped celery is also featured in cranberry fluff salad.
Typically, these salads are refrigerated, such as eggnog and cranberry salad, which features jellied cranberry sauce and whipped topping mix. Other salads are frozen, such as frozen cranberry pineapple salad and frozen cranberry banana salad. Creamy frozen cranberry salad is made with light mayonnaise, cream cheese and crushed pineapple. Thanksgiving frozen cranberry salad features frozen or fresh cranberries, crushed pineapple and whipping cream.
Some recipes feature marshmallows, and their sweetness offsets the tartness of the cranberries. Cranberry marshmallow salad, cranberry-apple Waldorf salad and layered cranberry salad all feature miniature marshmallows.
AS FEATURED ON:
AS FEATURED ON:

A bowl of sour cream, which is used in making cranberry spinach salad.

By: mates

Walnuts are a common ingredient in cranberry salads.

By: andersphoto

Cranberries can pair well with mild-flavored vegetables like celery.