A Waldorf Salad is a savory salad made from apples, celery, and walnuts tossed with mayonnaise. This iconic salad is on offer at restaurants all over the world, and it can also easily be made at home. Some health-conscious cooks use yogurt instead of mayonnaise for a slightly less fatty version of the Waldorf Salad, although purists insist that mayo is king when it comes to the Waldorf Salad.
This salad is named for the hotel at which it was first served in 1894. The Waldorf Hotel was a prestigious New York City hotel famous for its cuisine, and several other dishes including Eggs Benedict are sometimes attributed to chefs at the Waldorf. Modern visitors to New York know the Waldorf as the "Waldorf-Astoria Hotel," after the name it acquired in the 1930s.
The original Waldorf Salad included only apples and celery tossed with mayonnaise. The date of the introduction of nuts is difficult to track down, but nuts have since become an integral part of the salad. Some cooks also add dried fruit, typically raisins, and serve the salad on a bed of lettuce.
Typically, the apples used in a Waldorf Salad are red-skinned, although some people prefer crisper green-skinned varieties like Granny Smiths. The skin is always left on, and the apples are julienne-cut so that each piece has a tiny fragment of skin. The celery may be julienned or simply cut into small segments, depending on the taste of the cook, and the walnuts are usually cracked into pieces before being added to the mixture. Some cooks also squeeze lemon juice over the fruit mix so that the apples and celery do not brown before adding the mayonnaise and pepper to taste.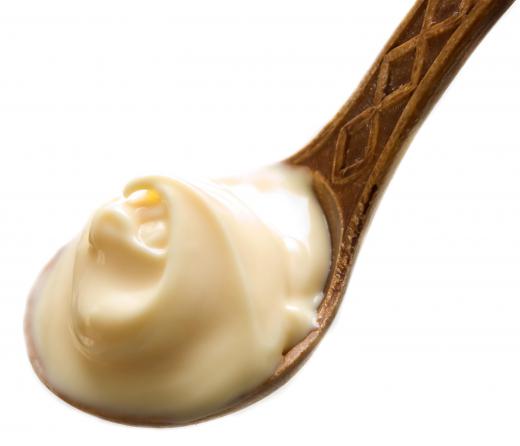 Waldorf Salad is usually served chilled, both for food safety reasons and because the salad tastes more refreshing when it is cold. It is a classic inclusion on summer salad menus, since people often enjoy cold, crunchy salads in hot weather. In addition to being served as an appetizer, Waldorf Salad can also serve as a light lunch or afternoon snack, since it can be quite filling, thanks to the rich combination of ingredients.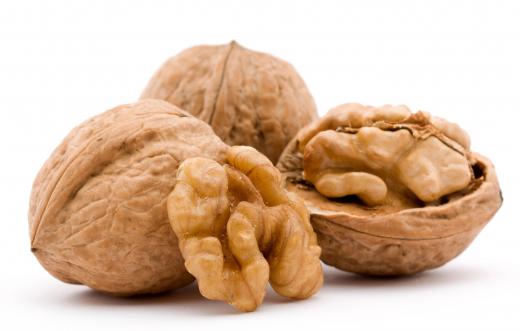 As a general rule, Waldorf Salad should be made no more than a few hours before consumption, to give it enough time to chill without allowing the ingredients to soften and become soggy. If Waldorf Salad is being taken to a potluck event, it's a good idea to ask for fridge space for the salad so that it can be brought out at the last minute, as room-temperature Waldorf Salad is not very appealing.
AS FEATURED ON:
AS FEATURED ON:

By: tesgro

Apples are one of the main ingredients in Waldorf salad.

By: Alexandra

Mayonnaise is the traditional dressing for Waldorf salad.

By: dinostock

Walnuts are a key ingredient in a Waldorf salad.

By: BigDreamStudio

Raisins are a common ingredient of Waldorf Salad.

By: andersphoto

Celery is an ingredient in Waldorf salads.