What Are the Different Types of Christmas Crafts for Kids?
The different types of Christmas crafts for kids include projects to make ornaments, gifts and seasonal items. For instance, a child may turn a shoebox into a diorama snow or Nativity scene. He or she may make a gift that doesn't have a Christmas theme, but is made to give a family member or friend for a holiday present. Making greeting cards or gift wrap are other types of Christmas crafts for kids. There are also many different kinds of Christmas craft kits available for children.
Children's craft kits with Christmas-themed projects typically include all of the materials needed and are labeled with a suggested age group. Ornaments, Advent calendars, stockings, bookmarks, napkin rings and fridge magnets are just some of the different Christmas crafts for kids available in kit form. A kit may include a small clay plant pot with items such as brown pipe cleaners and plastic "googly" eyes for children to glue onto to it to create a container that looks like a reindeer. Other kits include felt pieces to make into a bookmark, fridge magnet set, Advent calendar or holiday stocking. Beaded craft kits for kids are also popular and may include ornament and napkin ring projects.
Gift wrap and greeting card projects may also be sold in Christmas project kits for children or they could be made from supplies bought separately. Plain sheets of paper can be stamped by kids using rubber stamps. For younger children, or to help avoid a mess, stampers that contain ink in them may be used. Older kids may use ink pads and stamps that aren't pre-filled with ink. Colored construction paper, markers or crayons and glitter may all be used to make Christmas greeting cards. Christmas crafts for kids typically include the traditional holiday colors of red and green.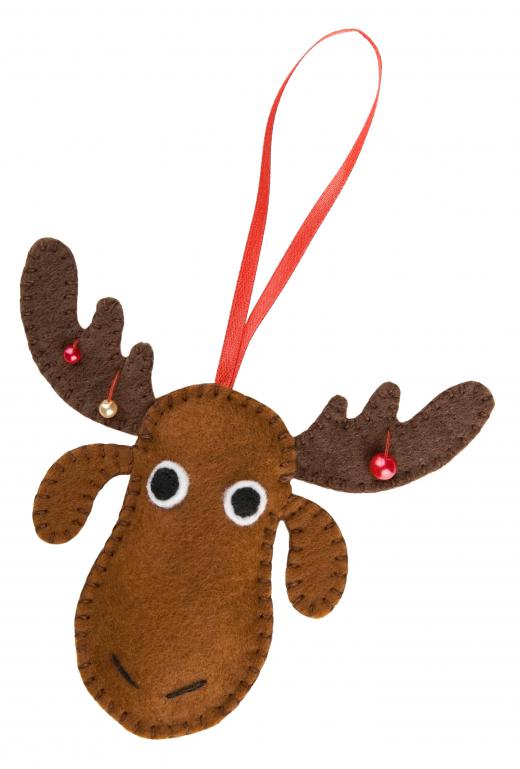 Many Christmas arts and crafts projects for kids involve reusing items around the home to make gifts. For instance, a plastic margarine or chip dip container with a lid may feature glued on paper or felt plus a decorative scene on the top such as a snowman made from cotton balls. A similar artistic treatment could be given to a food can to create a pencil holder. Cardboard shoeboxes turned on their side to glue many different items to create a winter or Nativity scene are classic Christmas crafts for kids.


By: smuay

Construction paper is often used in children's holiday crafts.

By: vodolej

Making greeting cards or gift wrap are fun Christmas crafts for kids.

By: sheva_ua

Many craft kits allow kids to decorate their own Christmas ornaments.

By: Ekaterina Garyuk

Inexpensive and kid-friendly Christmas ornaments can be made out of felt.

By: lily

Different origami crafts are fun for kids and parents.

By: Africa Studio

Gift wrap and card projects are ideal for kids.