What Are the Different Types of Arts and Crafts for Kids?
There are so many different types of arts and crafts for kids that it's nearly impossible not to find at least one a child would love to do. Kids who love to play with their food may enjoy making edible crafts, while those who have a fondness for jewelry might be especially excited about jewelry crafts. There are quite a few holidays throughout the year, so there are ample opportunities for projects pertaining to each one. Kids who show a special interest in learning about the world around them and making it a cleaner place might enjoy making eco-friendly crafts.
Arts and crafts for kids doesn't just have to be about the sticky glue that dries on their little fingers; it can also be about using edible glue and other materials they can eat. Edible crafts are good options for kids who like to play with their food and who may even have already decided on a creative career in the food industry. Edible projects that kids can do either by themselves or, depending on the project, with the assistance of an adult, include making chocolate in various shapes, making a fruit bouquet, decorating cupcakes and using edible glue or frosting to attach gummy bugs to a large cookie.
Holidays offer plenty of opportunities to do a variety of projects that correspond to the respective theme of the day. For Christmas, some of the projects can consist of making house decor, such as a green and red pom-pom wreath to hang on the door and paper loop garland to put up around the home. Decorating eggs is a favorite around Easter as is decorating pumpkins for Halloween. For Veteran's Day, kids can draw patriotic pictures and give them to veterans as a way to say thank you for their service.
When deciding on arts and crafts for kids, think about a project they can later wear and show off to their friends. Jewelry crafts are best done when an adult is there to supervise, considering the small pieces that may be involved. It's also important to consider the child's age and dietary restrictions in case any decide to eat their masterpieces. Parents can help younger children put colored cereal loops on a string to create an edible necklace, while older kids may enjoy making candy necklaces instead. To make funky bracelets, use non-toxic craft glue to adhere colorful scraps from a magazine onto an unfinished wooden bangle.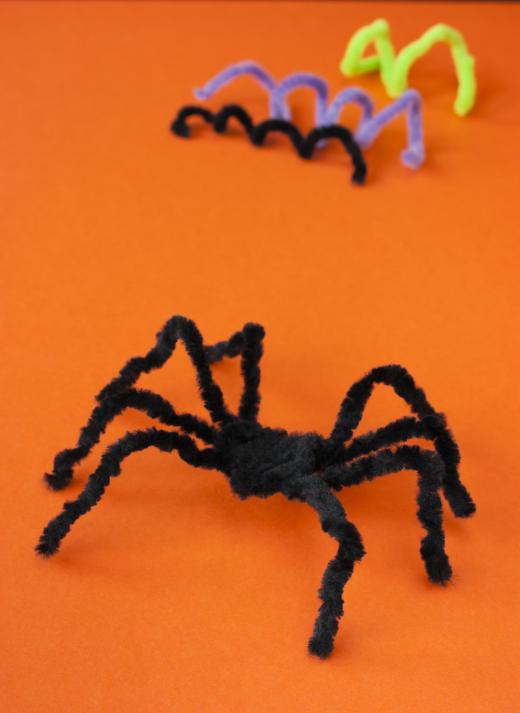 Eco-friendly arts and crafts for kids can help them learn how to reuse items they already have to make things they want. Kids can decorate shoe boxes to store smaller toys, turn an ugly aluminum can into a decorative mini planter and make coasters from unwanted CD's. It's also a good opportunity to give brief lessons, specifically relating to the materials they're using, about why reusing and recycling is important.
Arts and crafts for kids are an excellent way for them to stay busy, have play time, develop their creativity and learn new information. Although many are educational projects, they won't seem like work. In order to promote family time and creativity, it may be a fun idea to designate a special family craft night once a week.
AS FEATURED ON:
AS FEATURED ON:

By: Image Source IS2

A girl wearing a candy necklace that she made.

By: PHB.cz

Coloring eggs is a fun craft for kids around Easter.

By: Ewapix

Pipe cleaners can be used to make Halloween crafts.

By: adam36

Many arts and crafts projects incorporate yarn.

By: vodolej

There are many holidays throughout the year, so there are ample opportunities for arts and crafts projects pertaining to each one.

By: Tanouchka

DIY arts and crafts projects for kids might include painting with watercolors.

By: Ekaterina Garyuk

Children often enjoy making their own holiday-themed tree ornaments to hang on the tree before Christmas.

By: lily

Children might enjoy different origami crafts.

By: Africa Studio

Kids can sharpen their scissor skills with paper crafts.

By: photka

Kids may enjoy creating a sock puppet.