What Are the Different Types of Call Center Technology?
The different types of call center technology can be broken into two main categories. One side deals with delivering and routing calls through a telephone system, while the other deals with the software that agents use to log calls. Call center technology includes automatic call distributor (ACD), customer relationship management (CRM) software, interactive voice response (IVR) and computer telephony integration (CTI).
Separate contact center locations take such a large volume of calls that it is necessary to use servers to control and route incoming as well as outbound calls. When agents log into their individual phone systems at their desks, their extension becomes active within an ACD system. This is a computer software application that works with the phone lines to distribute calls to the next available agent. It actively monitors the number of agents that are available and attempts to route calls in a logical and efficient manner.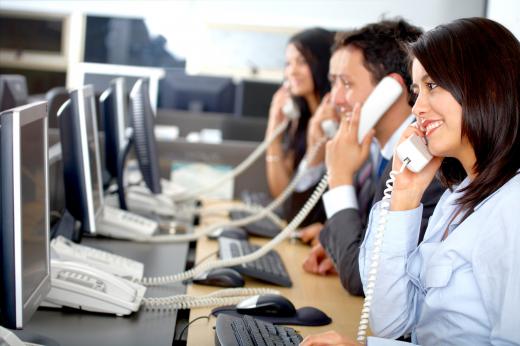 An ACD system also keeps track of which agents are not available, but still logged in. Agents may place themselves in "wrap up" in order to finish logging case notes in the database or research an issue. They may also be on a call or place themselves in idle for a break. ACD software recognizes different codes depending upon the agent's activity and will skip over an agent who is unavailable when distributing calls. The amount of calls that are distributed to a single agent is largely determined by his productivity.
Most forms of call center technology are integrated with its physical equipment. For example, interactive voice response helps incoming callers route themselves to the appropriate call center or department. Even though many callers find the IVR menu to be annoying at times, choosing the right selection helps agents avoid having to transfer callers to the appropriate department. IVR technology is also used internally by agents to contact other call centers that handle certain customer issues, such as service cancellations.
Computer telephony integration is a form of call center technology that sometimes works in conjunction with an IVR system. When callers input their service phone number or another piece of personal data into the automated IVR system, it automatically pulls up the customer's account for the agent. The CRM software or database that the agent uses to resolve customer issues and track call resolutions recognizes the account, saving the agent time. Most agents will verify that the CTI technology retrieved the correct account.
CRM software is a critical call center technology that agents use to gain access to customer information. Without being able to see and verify customer account information, agents would not be able to do their jobs. The software allows agents to make changes to customer accounts behind the scenes and also log details of why the customer called in. Multiple agents who deal with the same customer are able to research case notes logged in CRM databases, which saves them time and enables them to possibly address the customer's issue more productively.
AS FEATURED ON:
AS FEATURED ON:

Work stations at a call center are usually cluster together.

By: Yuriy Shevtsov

People who work at a call center frequently use headsets.

By: WavebreakMediaMicro

An ACD system keeps track of which agents are not available, but still logged in.