What Are the Best Tips for Making Football Cupcakes?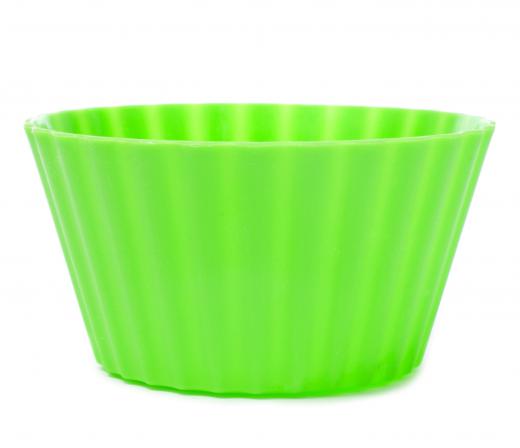 Whether making football cupcakes for Super Bowl Sunday or for a football-themed birthday party, there is a variety of tips that can help make them look their best. Toppers are ideal for those who aren't particularly skilled with frosting techniques. Applying images using edible paper is a way to apply an elaborate design without all the fuss. Mini foil-wrapped, football-shaped chocolates are a simple decorative touch without the baker needing to be skilled at decorating. Round cupcakes topped with chocolate frosting and white icing lines can resemble footballs, but an additional option is to take it a step further by forming the cupcakes into football shapes.
A simple tip for those who don't have a lot of time to decorate or aren't particularly skilled with decorating using icing is to put football-themed toppers on the cupcakes. There are several types, including mini footballs and football helmets as well as team-specific toppers in the shape of helmets and jerseys. It takes mere minutes to put frosting on the football cupcakes and apply the toppers.
An alternative for using decorative toppers is to add mini foil-wrapped, football-shaped chocolates to the top of the football cupcakes. To add some more color, use football-themed cupcake liners. Apply green frosting to make it appear like grass — either leave the frosting smooth or use a grass icing tip to make short vertical lines.
Those who want a more elaborate design for the football cupcakes without all the complications of hand-decorating can apply edible football-themed images by using a printer, edible ink and edible paper. The images are printed right from the computer onto the paper and applied directly onto the top of the cupcake. The images are a conversation starter that take little effort to create and apply.
A simple way to make football cupcakes is to make chocolate cupcakes with a football design on top. Put chocolate frosting or chocolate ganache on top and smooth it out as much as possible. Use white icing to make a horizontal line going from one side of the cupcake to the other, then every few millimeters, make short vertical lines that intersect with the horizontal line to resemble the stitches on a football.
Forming football-shaped cupcakes by hand can create a crumbly mess, so instead, use football-shaped molds rather than round ones. Use silicone molds so they pop out easily. The molds can create all the details, including the stitches, directly onto the cupcakes. It also provides a guide for those who want to neatly apply the icing.


By: nito

Using a silicone mold for cupcakes allows them to pop out easier.

By: Crisferra

Silicone molds come in a variety of shapes and sizes, including football shapes.