What Are the Best Tips for Frying Tofu?
The best tips for frying tofu relate to the consistency of the bean curd as well as the oil and method used to get the desired results. Whether it's deep fried or pan fried, tofu should always be cooked to a golden brown color. It's important to remember that soft, medium, firm and extra-firm tofu alike have a high water content and should not be pressed down with a spatula while pan frying.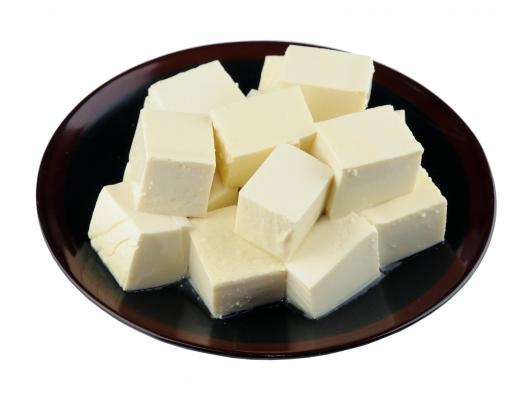 If too much water escapes from the tofu in the hot frying pan, it will spatter and the bean curd may become too dry. While a crispy outside is desirable when pan frying tofu, a too-hard, dried-out middle isn't. A few tablespoons of cooking oil should be added to a heated pan before adding chopped tofu, either in squares or triangles. The tofu pieces should be spread out in the frying pan as evenly as possible and allowed to sizzle and brown on one side before being gently flipped over with a spatula.
While tofu may be cooked as-is as described above, then sprinkled with seasonings after cooking, it may also be breaded and seasoned before pan frying. To do this with minimal mess, tofu pieces, flour and seasonings such as pepper and garlic powder can be placed together in a sealed container or plastic bag. After shaking the bag or container to coat the pieces as evenly as possible, the tofu may be pan fried or deep fried.
For deep frying, oils such as canola, sunflower or vegetable should be used. Olive oil may be used at medium temperature when pan frying tofu, but it cannot tolerate higher temperatures well. Flouring and seasoning the tofu pieces as described above may be done for deep frying. The oil should cover the tofu when the deep frying method is used.
When soft tofu is deep fried, it takes on a light, airy texture. Soft tofu doesn't usually pan fry well. Medium, firm and extra-firm tofu varieties may be pan or deep fried. After frying tofu, it may be cooled and frozen. Fresh or frozen fried tofu cubes may be added to soups, salads, rice or noodle dishes.
A marinade of soy sauce, orange juice, honey and seasonings may be used for tofu pieces that will later be pan fried. The tofu pieces should be tossed with the marinade in a sealed bag or container and refrigerated for several hours before frying. The bag or container should be turned a few times during refrigeration. Marinaded tofu doesn't work well for deep frying.


By: Lusoimages

A frying pan, which can be used to fry tofu.

By: Norman Chan

A plate of tofu.