What are Some Valentine's Gifts I can Make?
It's fun to surprise loved ones with Valentine's gifts you make yourself. Remember, that you don't have to create anything elaborate, but do put thought and love behind your hand-made gifts as that is what Valentine's Day is supposed to be about. You can make small, cute gifts with a Valentine's theme to accompany a store-bought box of chocolates or your own baking. Heart decoupage items, picture frames, pillows, key chains, book marks, keepsake boxes, jewelry and knitted potholders are just some of the many things you can make for Valentine's gifts without spending a lot of time or money.
Knitted potholders can be made quickly and easily with scrap yarn that you double as you knit. You need to only add a bit of red or other Valentine's color to create a heart shape in the middle. Two hand-knitted heart potholders and a batch of homemade cookies can definitely say "I love you" on Valentine's Day. Alternatively, you could cross stitch a tiny heart picture with the words "I love you" or anything you'd like and present it in a small frame and tie it with ribbon or raffia to a glass jar full of homemade baking.
You can also make a quick beaded necklace with a heart-shaped pendant and tuck it into a envelope with a Valentine's card. Keepsake boxes in unfinished wood can be found at many craft stores and make great Valentine's gifts because you can personalize them. For example, you could paint the box and then stencil on the recipient's initial in a random pattern over the box and paint tiny hearts in between. A child's gift box could be done in bright colors, while a man's could be done using three different wood tone finishes from light to dark.
Tiny presents such as bookmarks and keychains can also be personalized with initials. Needlepoint or cross stitch can be used for book marks and a wooden heart cut out that you paint could be made into a key chain to tuck in with your Valentine's cards. You can hot-glue wooden heart cut-outs to picture frames after you paint them or just make a heart-shaped throw pillow as a Valentine's gift.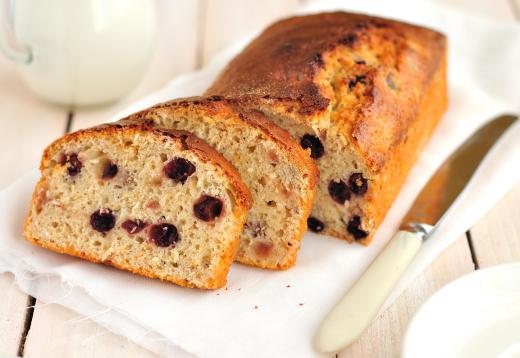 Heart-decoupage items such as boxes, trays, and picture frames also make nice Valentine's gifts. Choose a theme and color scheme to keep your pieces from looking too tacky. You could use pastel colors and Victorian motifs or just hearts and flowers in shades of red. Decoupage projects are perfect for those who love to cut and glue!
AS FEATURED ON:
AS FEATURED ON:

Homemade cookies.

By: azurita

Baking a cake is a great gift for your Valentine.

By: dolphy_tv

Homemade blueberry bread is a tasty and thoughtful Valentine's Day gift.

By: karandaev

Personalizing a picture frame can make for a wonderful Valentine's day gift.

By: Jane

A cross stitch heart on a bookmark is an easy handmade Valentine's gift.

By: Sergey Mostovoy

Heart decoupage items can be given as Valentine's Day gifts.

By: Globalphotogroup

Heart-shaped baked goods are an easy Valentine's Day gift.

By: Natalia Klenova

A flower bouquet cut from the garden can often mean more than store-bought flowers.