What are Some Ideas for Valentine's Day Decorations?
As Valentine's Day approaches, you may find yourself getting wrapped up in the holiday and adorning your home with appropriately themed decorations. Even if money is tight, it doesn't mean that decorating has to be ignored. There are simple ways for you to have Valentine's Day decorations that cost little money and take a small amount of time to create.
Whether it is for the kitchen, living room or dining room table, creating a simple decoration to go on top can be quite easy to accomplish. Put a red or white runner across the table, then sprinkle on faux rose petals in a contrasting color. Every few inches, add red pillar candles, which will be the final touch to an elegant, but inexpensive, table setting.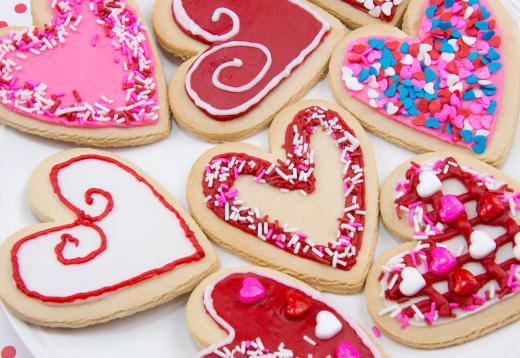 While cookies are usually meant to be enjoyed by being eaten, they can also be Valentine's Day decorations for your home. Make a platter of pink, white and red heart shaped cookies, which can be placed in the kitchen as part of the Valentine's Day decor. Consider placing a paper doily between the cookies and the platter to add a little more adornment to the presentation.
Flowers are popular gifts that are received by many on Valentine's Day. Instead of putting them in a plain, clear vase, consider putting them in one that was personally decorated. Choose your favorite Valentine's Day candy, then glue them onto the outside of a smooth, flat vase. Having a few of these personalized vases around the home can not only be used to hold flowers, but can be Valentine's Day decorations that serve as conversation starters as well.
Changing up your artwork to something more appropriate for the holiday can be a way to add Valentine's Day decorations to your home without spending a lot of money. Think about displaying framed antique valentines on the walls. They can be found, and often purchased in bundles, at thrift stores or online auction sites for little money. While it may take a bit of effort to carefully frame them, it could add a unique touch to your holiday décor.
Should you decide that you want to put up Valentine's Day decorations in your home, a little effort to create them can go a long way. Not only will you have your own personalized decorations, but chances are money was saved in the process. You may enjoy the designing and crafting so much that you could find yourself creating your own decorations for other holidays and for many years to come.


By: Stephen Coburn

Placing paper doilies under cookies can look nice.

By: maureen rigdon

A Valentine's Day themed pillow can be used for decoration.

By: Globalphotogroup

Frosted, heart-shaped cookies are versatile decorations that can also be eaten.

By: Natalia Klenova

Red rose bouquets can make any room feel more like Valentine's Day.