Macrame beads are wood, metal, glass, plastic, polymer or ceramic accents used in the craft of knotting rope or cord. Macrame knots vary from simple to complex and beads may be used in projects involving either or both knot types. Basically any kind of bead can be used in macrame projects as long as the center hole can easily fit the width of the rope or cord through it.
Some macrame projects use only a few beads such as those that are animal shapes created with bead eyes. Other knotted craft pieces such as beaded purses may use a lot of macrame beads. Most beads used in macrame are large to medium in size. Small beads usually won't work in macrame since very thin cords aren't typically used. Large wooden beads are the classic type used in macrame, such as on plant pot hangers, but many other kinds are also used regularly in knotted cord or rope crafts.
Ceramic beads with floral or other designs hand-painted on them add pattern to macrame projects. Metal beads, either polished or finished in an antique style, give rope materials a cool contrast. Glass or translucent plastic macrame beads can create an especially interesting look as their transparency allows the cord or rope to show through each bead. Opaque plastic beads give solid color accents to macrame pieces and are typically the least expensive bead type used in the craft.
Macrame beads for kids are often either plastic or wood varieties. They may be sold as part of a children's macrame kit. Kids' macrame crafts with beads included may be animal shaped bookmarks or key chains, as well as friendship bracelets. Beaded macrame friendship bracelets are typically quick and easy for kids to make. Some of these macrame bracelet kits are sold with metal rather than colored wood or plastic beads. These metal beads are often embossed with animal or floral motifs or they may contain alphabet letters used to spell names.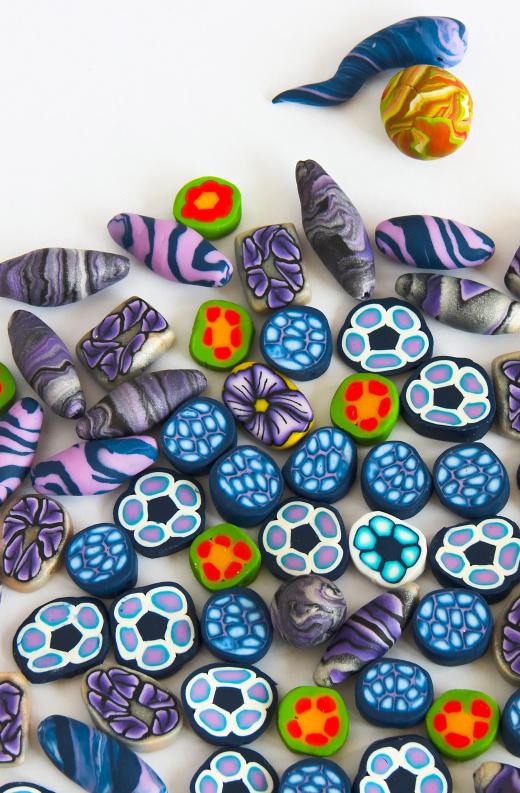 While beads used in knotted craft projects are sold with macrame supplies, some crafters like to choose regular bead types or create their own from polymer clay. Handmade polymer clay macrame beads are unique and can help personalize rope and cord knotting crafts. Some people like to make or purchase unusually shaped or patterned beads to make their macrame projects really stand out in an artistic sense.
AS FEATURED ON:
AS FEATURED ON:

By: 79mtk

Any type of bead can be used in macrame.

By: cosma

Some people make their own beads from tubes of polymer clay for macrame crafts.

By: Pavel Drozda

Polymer clay can be used to make beads for macrame.

By: Sergey Goruppa

Macrame beads are popular in the creation of jewelry.

By: kachergina

Macrame beads can be made in almost any color, thanks to the variety of colors and mixing ability of polymer clay.