What Are the Different Types of Polymer Clay Projects?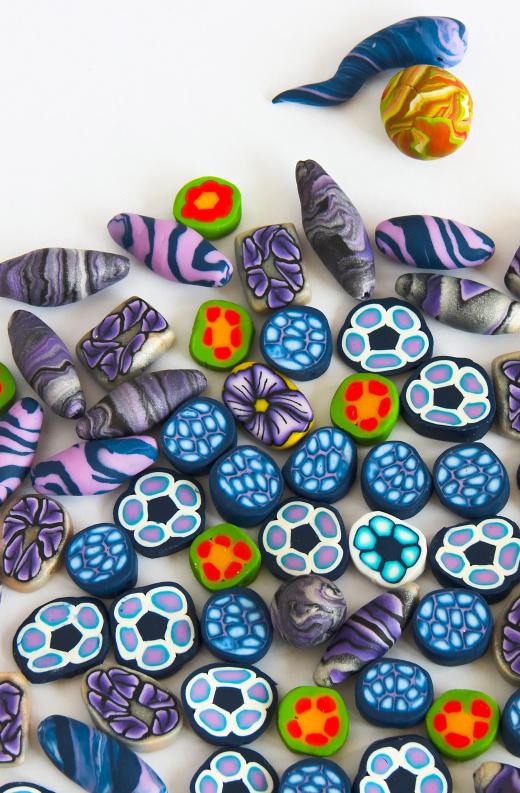 There are many different types of polymer clay projects, and many involve very few supplies. Polymer clay sculptures, beads, and other items can be made entirely by hand out of polymer clay, but there are also projects that involve combining polymer clay with other materials to create picture frames, jewelry, and other objects for which clay alone is insufficient. Common projects include making figurines, pencil toppers, and framed artwork. Generally, polymer clay projects are small, but the subjects represented through clay can be highly diverse. For sculptures, the limits of polymer clay projects are often a matter of skill rather than the medium's potential.
One of the most common types of polymer clay projects involves simply making sculptures out of clay. These small items may be entirely made out of clay or may incorporate other objects, like jewels. It is possible to represent any object with clay, but some types of projects may be more difficult than others.
Another popular type of project involves covering an item with clay. Picture frames, small boxes, and even tables can be covered with this type of clay. When the underlying item cannot withstand the temperatures used to harden the clay, it is often necessary to bake the clay separately and glue it into place. This may require creativity on the part of the artist if the items fit together in a complicated way.
Beads are often made out of polymer clay using a variety of techniques. Millefiori beads using polymer clay are highly popular, but other streaked and textured patterns are also possible. Sometimes, very small sculptures can be used as beads when the appropriate holes are left intact. Bead making often requires a few supplies in order to create clean cuts and even beads.
When making other types of jewelry, polymer clay is often directly combined with small functional items. For example, earring posts can often be attached to polymer clay items with glue. This is useful for projects in which clay alone is insufficient.
In addition to these common projects, there are also highly unique polymer clay projects that artists have designed. For example, shadow boxes can be filled with scenes and hung on walls as art. Functional objects with moving parts can be made out of polymer clay, although the mechanics involved in this type of project are often highly difficult. Thinking about the physical properties of polymer clay can suggest a number of additional projects appropriate to this material.


By: Pavel Drozda

Polymer clay is often used to make beads for jewelry and other projects.

By: photopalace

Polymer clay can be used to create sculptures.

By: kachergina

Polymer clay can be used in multitude of projects.

By: cosma

A number of tools can be used to shape polymer clay for different projects.