Polymer clay is a sculpting compound made from a material called polymer polyvinyl chloride (PVC). PVC is a synthetic plastic and contains no natural clay ingredients. This PVC clay is available in different brands and is sold in blocks that are often called bars. There are many different colors of the bars of clay available for sale in craft and art stores. Artists, craftspeople, and children alike use various techniques to produce a wide variety of projects.
Polymer clay can be sculpted, rolled, or cut into shapes before being baked in an oven at low heat, up to about 275° Fahrenheit (135° Celsius) to harden it. Baking this synthetic clay makes it firm enough so that it won't break easily. Artists sculpt the clay into figurines that may be abstract multi-colored shapes or whimsical caricatures of people or animals. Jewelry artists create beautifully detailed beads and pendants from polymer clay.
Jewelry is an extremely popular item to make from this clay. Jewelry projects are limited only by the imagination, since the material is so easy to roll and bend into beads, pendants, brooch pins, and sculpted shapes for necklaces and earrings. The polymer material can also be used to create ornaments, magnets, key chain pieces, plant stakes, cake toppers, and many more items.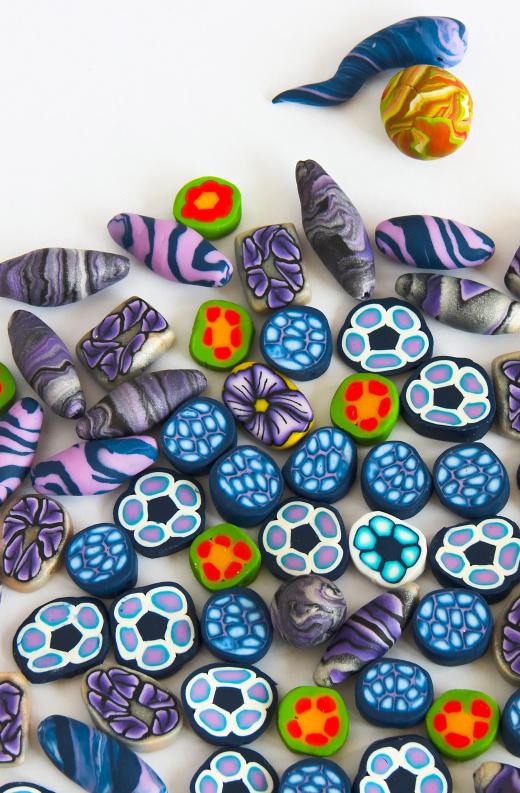 To make simple beads, the clay is rolled into balls. These shapes are then placed onto a metal or wood skewer to create a hole through the centers to form beads. Flower sculptures, such as roses, can be created from the clay by first rolling out a long tube of the material. Next, sections can be cut with a knife to make petals. Each petal section can be slightly elongated and arranged around other petals to form a rose shape.
Two of the most well known brands of polymer clay are Fimo® and Sculpey®. Firm and softer variations are available within each of the many polymer modeling clay brands. In addition to regular colors, the clay is sold in many different finishes such as pearl, stone, metallic, and translucent. Polymer types of modeling clay can also be painted or have glitter, metallic foil, and other coatings added.
Tool sets for sculpting the synthetic clay can be purchased in craft or art shops. Sets of clay and tools packaged together are also available. A polymer clay art set for children usually lists the suggested ages for creating the projects. Some of the sets designed for younger children include molds to fill with clay to create animal or other shapes that kids can decorate after adults bake and cool the crafts.


By: vadim yerofeyev

Colored polymer modeling clay is usually sold in packages.

By: photopalace

Polymer clay is often used for children's crafts.

By: cosma

Polymer clay can be formed into ropes, then cut and baked to make beads.

By: Pavel Drozda

Polymer clay can be used to make beads for jewelry.

By: kachergina

Polymer clay is available in a wide variety of colors.