Floss picks are implements that are used to clean between the teeth. They usually are predominately plastic with a piece of tightly strung dental floss extending between two points. These dental products can be effective for dislodging items that are stuck between the teeth and for preventing plaque buildup.
Most floss picks are made predominately of plastic. Generally, the bottom end narrows down to a sharp point, which can prod between the teeth and along the gum line. The handle usually extends up and the top portion of the implement curves to form a shape similar to the letter "C" or it can be open more like a "Y." Between the two points of this C-shaped or Y-shaped structure, a piece of dental floss will be tightly extended across.
These dental products are available for domestic use. They are generally sold in bags, which contain several dozens since they are usually disposable. They may be available in various colors or with various designs. There are some marketed for children that have childish designs formed into the handles. Some models of floss picks are designed for people with tightly spaced teeth, and some are designed for users with sensitive gums.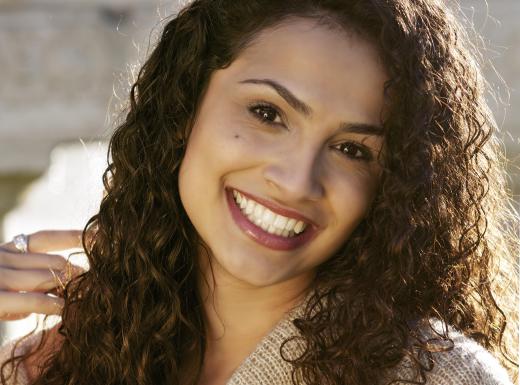 Something that makes one floss pick different from another is the type of dental floss that is used. Users can choose between waxed and unwaxed floss. They may choose those which have a flavor, such as mint or mouthwash. Another feature, which causes users to purchase one brand over another is the inclusion of a tongue scraper. People who have problems with bad breath often find that using tongue scrapers improves their oral hygiene.
There are several benefits associated with using floss picks. First, they allow users to clean between the teeth, which can help prevent tooth decay and promote good oral hygiene. Furthermore, they can help a person effectively clean hard-to-reach teeth. Second, floss picks can help stimulate the gums. Third, they can also be effective in the prevention of gingivitis.
Dentists usually advise people to floss every day. This does not mean they have to use the traditional type of dental floss. Instead, they can choose the alternative, which is a floss pick. There is some debate among dental professionals regarding whether floss picks should be used before or after brushing. Most dental professionals admit that a dental pick can drag debris below the gum line. Since this could lead to infection, it is often advised that a person should brush the teeth as clean as possible before using the implement.
AS FEATURED ON:
AS FEATURED ON:

By: Balint Radu

The teeth and gums should be cleaned regularly to keep them healthy.

By: Paul Hill

Good dental hygiene is crucial for maintaining a healthy smile.

By: nobeastsofierce

Floss picks may be an easier alternative for some people with braces, because the picks can slide behind the wire.