What are Coloring Markers?
Coloring markers are one category of the medium known as markers, felt-tips or felt-tipped markers. These drawing instruments have an ink reservoir and a tip through which the ink is wicked for application. They are distinguished from felt-tipped pens or marking pens, calligraphy markers, dry- and wet-erase markers, and highlighters, all of which are intended to have the qualities necessary for writing instruments and usually have fewer color options. Coloring markers are a common school supply among younger children. When buying markers, especially for children, one should consider non-toxic and washable options.
Some of the different types of coloring markers :
Archival Markers. Designed for scrapbooks and memory books, these are acid-free, and may also be used for marking photographs and art prints. They may fade if exposed to ultra-violet light.
Brush Markers. Sometimes called a brush pen, these have a brush that may be a foam brush, synthetic sable, or a flexible nylon fiber brush tip. Brush markers come in a wide array of colors. Some may have a double tip, the other end being a narrow fiber tip for fine-line drawing. Whether single- or double-ended, they are sold singly and in sets. Metallic colors are also available. They can be used with rubber stamps, and some versions deliver watercolors through the brushes.
Layout Markers. These professional markers are used for cartoon illustration, fashion, animation, engineering, illustration, and storyboard production. They may be water-based or solvent-based, and are available in a wide variety of colors, as well as many shades of gray. Some versions may have mixable colors, be refillable, and have interchangeable tips to provide a range of strokes from brush to superfine.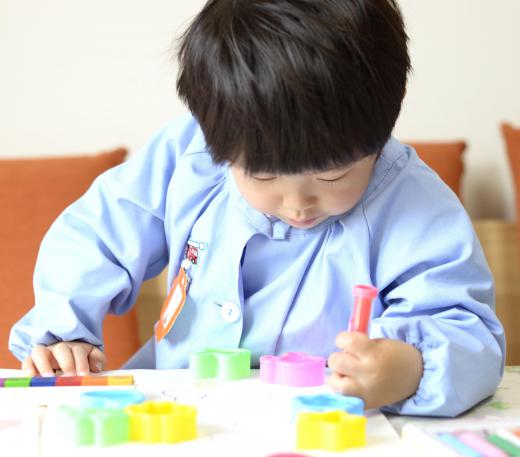 Overhead Projector Markers. These markers are made for both drawing and writing on transparencies (sheets of clear plastic), and may feature a choice of fine, medium, and broad tips. There are water-soluble varieties and permanent colors available as well.
Permanent or Solvent-Based Markers. Some of these markers are specially designed not to bleed through paper; others are made for labeling, sign-making, and other writing applications, and may even be labeled as industrial markers. There are metallic versions in gold, silver, and other colors though the color options are typically smaller than is the case with layout markers. The ink may be non-toxic or toxic.
Scented Markers. These are non-toxic colored markers that each have a fragrance. The scent often has an association with the color of the marker, so an orange marker will likely have an orange scent. Some dry erase markers also have a scent added.
Washable, Water-Based, and Water-soluble Markers. Washable markers are made specifically to wash easily off of skin and, in many cases, off of washable clothes. Although water-based markers use water-soluble ink, they are not necessarily washable.
Specialized Markers. There are a variety of markers designed for a specialized use. Some are made especially to be used on fabric and are therefore permanent and non-toxic. Furniture and picture-framing touch-up markers are quick-drying permanent, meant to be used individually or by combining colors to cover up nicks and scratches in wood-based items like picture frames and furniture. As a result, they come in a variety of wood tones.
Crayola® claims to be the only company currently offering erasable coloring markers. The eraser is built-in, and, they claim, can be used to change work and also to create various effects, such as reverse drawing with the eraser. There are also special body markers made for skin designs, and these are removable with soap and water or cold cream.
AS FEATURED ON:
AS FEATURED ON:

By: pzRomashka

Permanent markers come in colors.

By: volff

Cold cream can remove marks that have been drawn on skin with the use of coloring markers.

By: chihana

Schools often provide children with coloring markers.