The term clog slippers refers to a type of shoe or sandal comprised primarily of wood. Clog boots are made with thick wooden soles and have high leather sides. They sometimes come with steel toecaps and reinforcing inserts to protect the sole of the foot. Special kinds of clog shoes are available for clog dancing, or clogging, with taps on the soles. These are similar to tap shoes, but the taps are free to click off each other, creating a unique sound.
Presently, clogs refer to any kind of comfortable slip-on shoes. Most are now made primarily out of leather, but a few models still have the wooden soles. When gardening, clogs made completely out of rubber are used, due to their easy clean up. Some clogs come with raised heels, and it is accepted that both men and women can wear high- or low-heeled clogs. Wooden clog slippers are still commonly worn by workers in mines, factories, and farms.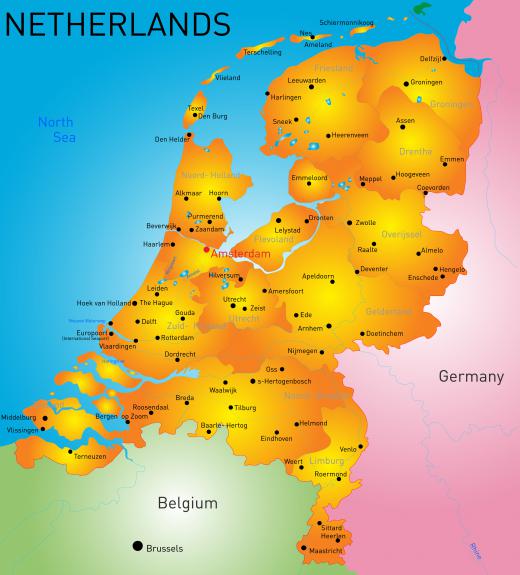 Original clog slippers are made out of willow and poplar woods, and are considered a form of national dress in Holland and Sweden. Wooden clogs have passed all modern safety requirements for use in work places, and they are considered beneficial for the feet. They aren't as widely worn in modern times, but they still see use by gardeners and farmers.
In England, slats of wood were secured with thongs to raise the feet off of muddy man-made roads. These were known as patterns and were worn over shoes made of leather or fabric. Impoverished people who were unable to purchase shoes wore the patterns directly against their skin. English clog slippers and patterns were typically made of Scottish birch or alder.
Clog slippers quickly rose in popularity with the British during the Industrial Revolution. The influx of jobs created a high demand for inexpensive, strong footwear. Clogging is said to have originated from factory workers, dancing during breaks to entertain themselves. This became a national pastime in 19th century England, and competitions were commonly held in music halls.
Clogs were also worn in France, where they were called sabots. Like in England, sabots were primarily worn by factory workers, farmers, and miners. The term sabotage was formed when unhappy workers threw their sabots into machinery to intentionally cause malfunctions.
In recent years, clog slippers have begun to make a comeback, with use in the United States. The difference being that in Europe, clogs are used primarily for work, while in the United States, they are used for fashion and style. Some new styles of clogs include soles up to 8 inches (20 cm) high.
AS FEATURED ON:
AS FEATURED ON:

By: Ruslan Olinchuk

Original clogs are considered a part of Dutch traditional dress.

By: Negura Dincolo

In England, clog dancing was a product of the Industrial Revolution, although tales of its beginnings vary.

By: gianliguori

Clog slippers are shoes or slippers made of wood.