Cherries are often made the star of dessert or breakfast muffins around the world. Using pitted cherries, fresh or canned, chefs will make basic cherry muffins with ingredients like butter, milk, eggs, sugar, baking powder and salt. For added interest and flavor, many spruce their muffins up with items like sour cream, ricotta cheese, citrus zest and, perhaps most commonly, chocolate.
As with most dessert treats, cherry muffins require a certain precision of proportions. For a basic recipe making a dozen muffins, one cook uses 1.5 cup (about 190 g) of flour to 0.5 cup (about 63 g) of sugar, along with 0.5 tsp. (about 2.5 g) of salt and 2 tsp. (about 10 g) of baking powder. After these ingredients are combined, they are folded into the already-mixed moist ingredients: 3 tbsp. (about 45 g) of melted butter, 1 cup (about 225 ml) of milk, two eggs and 6 oz. (about 180 g) of macerated and pitted cherries. Often, half of the milk will be substituted with juice from the cherry jar — when jarred cherries are used instead of fresh fruit.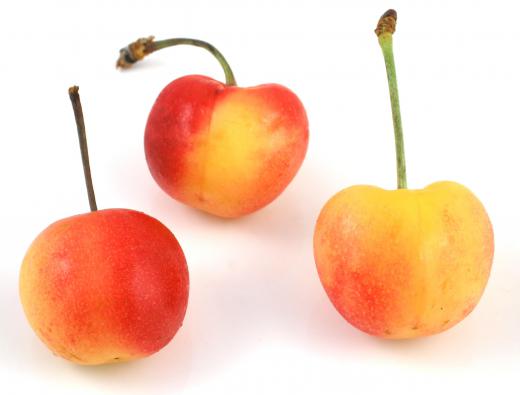 Cooks blend the moist and dry ingredients for cherry muffins vigorously until fully combined. Too much blending, however, could release most of the air pockets in the batter and lead to less-airy muffins. After two muffin tins are lightly greased, the batter should fill the tins about two-thirds full. Cooking times and temperatures vary slightly, but a common approach is cooking them for at least 15 minutes in an oven set to 375°F (about 190°C).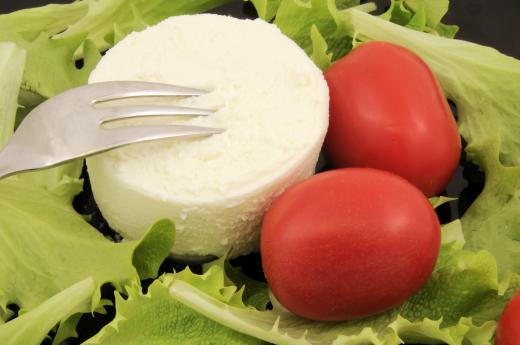 Many connoisseurs may find plain cherry muffins to be just that — too plain. To spruce up the recipe, cooks might add any number of other ingredients to impart additional flavor or a more sumptuous texture. Vanilla extract, nutmeg, cinnamon or lemon zest are minor additions. Ingredients like ricotta cheese, cream cheese, sour cream or semi-sweet chocolate chips change the flavor profile dramatically.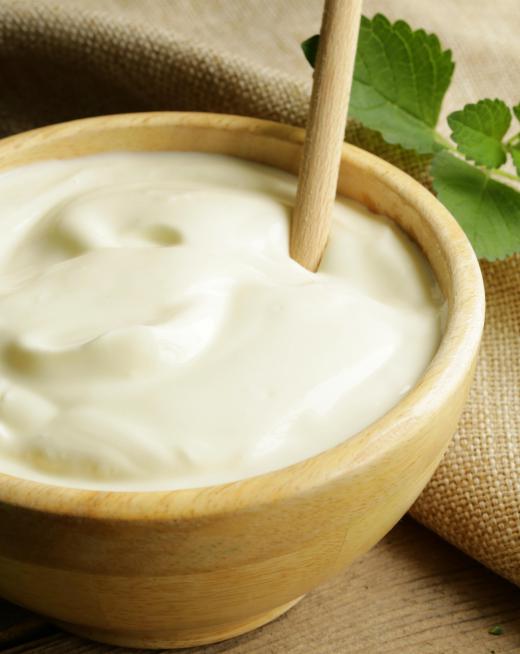 Though the tops of cherry muffins can be left plain or merely sprinkled with course sugar, others prefer a more ornate presentation. A cream cheese frosting is one option. Many also reserve some full cherries to decorate the top of the muffins, pressing them into the batter about halfway through the cooking time. Bakers regularly experiment with different fruits for making these muffins too. Apart from cherry muffins, several other types of produce are commonly used — from bananas, blueberries and peaches to savory vegetables like carrots, squash and zucchini.
AS FEATURED ON:
AS FEATURED ON:

By: Harris Shiffman

Rainier cherries can be sliced and pitted and added to muffins.

By: Roberto Fasoli

Ricotta cheese can be added to cherry muffins for extra flavor.

By: dream79

Some cherry muffin recipes call for sour cream.