What are Burial Expenses?
Burial expenses are the expenses that are accrued after a person dies. These expenses can include funeral home costs, memorial ceremony expenses, cemetery costs, and transportation fees. In some cases, burial expenses can include pre-death expenses, such as burial insurance or burial funds as well.
The funeral home, its director, and its employees are all part of the burial expenses. These expenses may include renting a room where mourners can view the body. They may also include fees for services that are requested by family members in preparation for viewing the deceased. These services can include embalming the body, putting make-up on the face and hands of the deceased, and dressing the deceased in clothes. In addition, many funeral homes offer a selection of caskets or urns that are for sale.
A memorial ceremony is part of many people's burial expenses. Typically, the person conducting the ceremony has a fee or receives a donation. Other expenses include flowers, cantors, and musicians. Although these burial expenses are not mandatory, many people feel they are a nice way to show respect to the deceased. Depending on how many musicians and cantors are asked to perform at the memorial, the cost can be quite high or relatively affordable.
The cemetery poses another set of burial expenses. Although some people have family grave sites, others must purchase a grave site at the time of death. These sites can be quite expensive, depending on their location. Once the site has been purchased, other costs include cemetery staff to dig and fill the burial site, chairs for people to sit in for a graveside service, and a burial vault and liner to go in the grave itself. A headstone can be quite pricey if it is ornate, but there are less expensive and less grandiose options as well.
An often hidden burial expense is transportation fees. There are service fees to transport the deceased from the hospital or home to the funeral parlor. There are also fees to transport the body from the funeral home to the memorial location and then to the cemetery. This typically includes the rental of a hearse. Lastly, sometimes immediate family members and close friends ride in limousines behind the hearse, adding to the burial costs.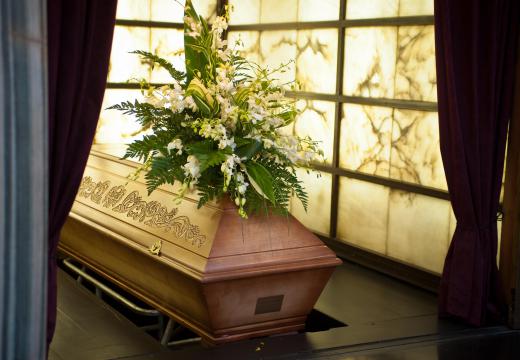 Although most burial expenses occur at the time of death, there are some expenses that can occur prior to death. These expenses can include the cost of burial insurance, for example. Burial insurance is life insurance in which the payout is used to cover the burial expenses. In essence, money is paid monthly while the person is alive to pay for the expenses that occur at death. Some people may opt to have a burial fund wherein money is set aside in a special bank during a person's lifetime to pay for a burial when death occurs.


By: ufot

Burial expenses may include embalming fees.

By: Kzenon

Pallbearers are usually made up of family and friends, and are therefore not counted among expenses.

By: mario beauregard

Burial expenses typically include the rental of a hearse.

By: mbruxelle

Gravesites and headstones may be somewhat expensive.

By: tomaspic

A casket may be part of a person's burial expenses.