What is a Funeral Parlor?
A funeral parlor or home is a business that caters to the many needs surrounding memorial services and burials. Working with the family of the deceased, the funeral parlor can help create a ceremony or plan that accedes to the wishes of the dead and the needs of the family. A comprehensive funeral parlor can be an extremely valuable resource during an uncertain time, and may be able to help arrange everything from announcement cards to the funeral reception.
Different funeral homes offer different services, but usually have at least some basics in common. They can usually provide a choice of burial caskets or urns, and can help you choose what will fit your budget and the wishes of the deceased. They usually offer a viewing room for those paying their respects to sit quietly with the casket. Some may offer additional services, like writing and sending obituary and funeral notices to local papers, and providing notification cards to friends and relatives.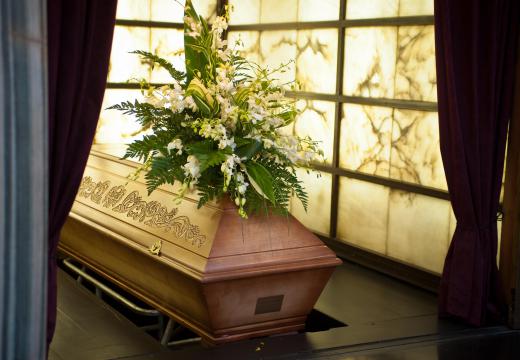 If you are planning a funeral that will include burial and reception services, a funeral parlor may be able to help you. Many have partnerships with local caterers, florists and reception halls, or may even provide some of these services themselves. At the very least, they should be able to provide you with recommendations for reputable vendors. As they work in the field, they are likely to know the best and most suitable places to help you with your needs.
A funeral parlor may be able to offer preplanning services, for those who would like to take care of their own funeral arrangements. This can be a difficult and delicate area of discussion for some people, and many funeral parlor workers are trained in how to deal with you correctly and with respect. Don't be afraid to try several different mortuaries until you can find someone you will be comfortable with and are sure will treat your family well when the time comes. You may find that a good funeral parlor manager can help set your mind at ease, and make you feel more at peace knowing that the arrangements will be carried out according to your preferences.
Historically, funeral parlors and their employees have a grim and macabre reputation. They frequently appear as villains in fiction and mysteries, and are often depicted as taking a spooky pleasure in their work. In truth, the job of the funeral parlor is difficult and worthy, and those who work in the industry have the task of making the burial process easier on grieving families.


By: ufot

Funeral parlors assist with burials and reception services.

By: neirfy

Florists may work with a funeral parlor to coordinate flower arrangements.

By: tomaspic

Funeral parlors often have a variety of caskets for sale.

By: mario beauregard

A hearse is typically used to move the deceased from a funeral parlor to a gravesite.