Bath bombs are soft-but-solid, roundish balls of materials designed to dissolve and bubble when they make contact with water. The bombs are placed in bathtubs after they have been filled with water, as with bubble baths. While dissolving, bath bombs can contribute scents, colors, oils, cleansing agents or other materials to the bath water.
Bombs usually are composed of sodium bicarbonate (baking soda), citric acid or another organic acid, corn starch and magnesium sulfate (Epsom salts). All of these ingredients combine to create the fizzing and dissolving effects for which the bombs are known. The bombs might also contain materials such as food coloring, glitter, herbs or dried flowers for added effect.
The amount of time required for bath bombs to dissolve can vary, depending on the manufacturer and the size of the bombs. Generally, though, a bath bomb can be expected to dissolve within two minutes. Crackling and fizzing will occur while the bombs disintegrate, and it is during this time that the bombs' other materials will be dispensed.
Bathers might enjoy a flurry of resulting bubbles from this product. These bubbles can stick to a bather's hair and skin and provide a source of entertainment for the bather. Although the bombs might be fun, they might also have some therapeutic uses.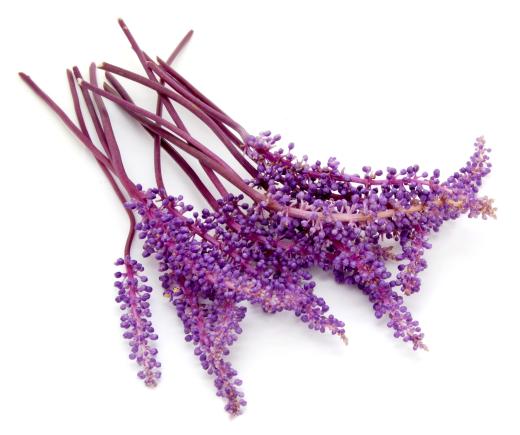 If the bombs contain essential oils and cleansing agents, they can help a bather in a therapeutic sense, however minimal. Sea salt, commonly thought to be a highly beneficial cleansing agent, can provide a way for the bather's body to experience a deep cleaning. If a bather wishes to be energized, she might select a bomb that contains mint. Should the bather wish to use the product for relaxation purposes, she may choose to use a bath bomb with lavender ingredients. Similarly, products with sweet almond oil moisturize skin, and those containing avocado oil or wheat germ oil have soothing and healing properties.
Bath bombs can make for interesting gifts. They are popularly given to individuals who could use a relaxing and pampering bath experience. The bombs also can be useful to parents who wish to make bath time more appealing to children. The bombs might also be appreciated by those who like to include natural ingredients in their skin care regimen, since a bath bomb's ingredients generally are much safer and more effective than the synthetic ingredients that are found in many other bath products.
AS FEATURED ON:
AS FEATURED ON:

By: Jiri Hera

Epsom salts, an ingredient in most bath bombs.

By: Kimberly Reinick

Lavender is a popular addition to bath products due to its pleasant, relaxing scent.

By: Rido

Bath bombs can make a relaxing experience even more pleasurable.

By: Vidady

Baking soda is a common ingredient in bath bombs.

By: viperagp

Essential oils are often included in bath bombs.

By: tashka2000

Avocado oil in a bath bomb provides healing and soothing properties.

By: Kasia Biel

Bath bombs can be bought or made at home.

By: Ariwasabi

The effect of bath bombs is similar to bubble baths.