The term "baked beans" can refer to a number of bean dishes prepared in different ways. Broadly, it indicates beans that have been prepared through slow roasting in an oven while surrounded by a sauce that can include sweet ingredients such as maple syrup or brown sugar and savory ingredients such as salt pork or bacon. Baked beans also can be used to describe a way to prepare beans that already have been cooked by baking them a second time with additional spices such as barbecue sauce or mustard. Even though the beans are described as being baked, there are many recipes that do not actually bake the beans, but instead simmer them slowly in a pot along with some type of sauce and other ingredients. When served, baked beans can be spooned over bread, presented as a side dish or mixed with meats or vegetables as a main course.
Nearly any type of bean can be used to make baked beans, but commercially, navy beans are used almost exclusively. When made at home, navy beans, kidney beans and even black beans can be used. Some recipes rely on extracting the starches and flavors from dried beans to lend flavor to the sauce that develops while cooking, although there are many recipes that simply dress canned or previously prepared beans.
One of the most common recipes for baked beans involves soaking dried navy beans in water overnight so they soften slowly. Once soft, the beans are placed in a thick-walled pot, Dutch oven or special bean pot. Onions are fried in a pan along with diced salt pork, thick-cut bacon or a ham hock. The fried ingredients are then added to the beans along with some water, brown sugar, garlic and mustard, after which it is baked in an over for several hours until the beans are very soft and the water has reduced to a thick, sweet sauce.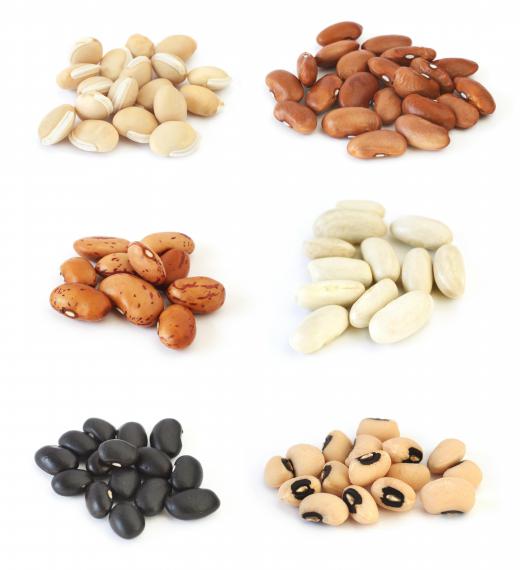 Other types of baked beans use a similar cooking method but, instead of using water, some type of tomato-based ingredient is added to make the sauce. This can be tomato sauce, tomato juice, ketchup or barbecue sauce, especially when the beans will be cooked on a grill. The beans can be cooked in a slow cooker or on a range top over the course of several hours when made in this way. In these cases, the beans tend to have less overall sweetness and the sauce they are in can be much thinner, sometimes appearing soup-like.
Depending on the way in which they are prepared, baked beans can be served in a bowl with some mustard and eaten as a meal by itself. It also is not uncommon to mix meats such as ground beef into the beans. As a side dish, beans can be served alongside barbecued meats or hot dogs. A classic English dish is made by spooning baked beans over pieces of buttered toast.
AS FEATURED ON:
AS FEATURED ON:

By: BronxPhotog

Navy beans, which can be used to make baked beans.

By: tfazevedo

Many different types of beans can be used to make baked beans.

By: Sea Wave

Recipes for baked beans sometimes use tangy mustard as an ingredient.

By: Monkey Business

Baked beans and coleslaw are popular side dishes at backyard barbecues.

By: Springfield Gallery

Baked beans are often served with hot dogs.

By: Jaimie Duplass

Many types of beans, including black beans, can be used for making baked beans.