A cough is a sudden reflex, and it is the body's way of clearing foreign particles from breathing passages. Most of the time coughs are considered to be a good thing, but they can also be quite annoying and interfere with daily activities. To treat a cough, you must first recognize what type of cough it is. There are generally two different types of coughs, productive and non-productive, or dry. Productive coughs should be treated with expectorants, and dry coughs should be treated with lozenges or cough suppressants.
A productive cough is a type of cough that produces some kind of secretion. With this cough, phlegm is brought up, which can be a variety of colors, such as clear, white, yellow, green, or brown. Because this is the body's way of fighting off infection, it is best not to treat a cough of this sort. If you believe that treatment is necessary, cough suppressants or throat lozenges should not be used, as they can possibly cause a build up of phlegm, making the problem worse. Instead, use an over-the-counter expectorant.
Expectorants can be purchased at many large supermarkets and pharmacies, typically in syrup form. The purpose of an expectorant is to thin out and help dissolve thick mucus. By doing this, mucous and phlegm from the lungs and bronchi can be expelled from the body much easier.
A dry cough is a cough that produces no phlegm or mucus. This often tickly cough can be quite irritating, and it can be caused by a number of things, including the common cold, asthma, allergies, and pollution. To treat a cough like this completely, you must generally treat the underlying cause. In the meantime, however, there are a few dry cough remedies that could work for you.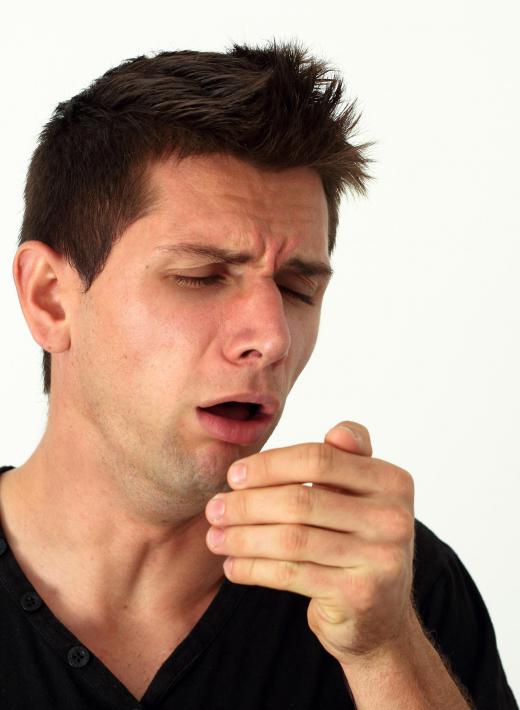 One of the easiest ways to treat a cough that is dry is with throat lozenges or cough drops. Hard candy can also be used. These can help soothe a hoarse, sore throat and keep the throat moist to help prevent any further irritation. For children under the age of three, however, this remedy isn't recommended, as the small, hard lozenges could become a choking hazard.
Cough suppressants are sometimes recommended by physicians to treat a cough that is not producing any phlegm. Dextromethorphan is a popular type of cough suppressant, and any cough syrup labeled DM will typically contain it. Unlike an expectorant, which will encourage you to cough, a cough suppressant will help lessen the urge to cough.
AS FEATURED ON:
AS FEATURED ON:

By: Bert Folsom

Hard candy may help soothe a sore throat.

By: dandaman

A dry cough is treated differently than a productive cough.

By: absolutimages

A hoarse, sore throat with a cough might be eased with throat lozenges.

By: JPC-PROD

Codeine cough syrup is very effective at treating a cough.

By: Mark Herreid

Cough suppressant drops should not be used if the body is coughing to fight a severe infection.

By: kostrez

Dry coughs can be treated with throat lozenges.

By: Halfpoint

Phlegm that is coughed up should be spit out, not swallowed.

By: vbaleha

A dry cough may be caused by asthma.