An expectorant is something which softens and loosens the mucus in the respiratory tract while also thinning it so that it will be easier to bring up. These medications are used when people have difficulty breathing because they have large amounts of mucus in their respiratory tracts, and to help people recover from coughs. Not all cough medicines contain expectorants, but many do, and they can be a very useful tool for seasonal cold and flu recovery.
Wild cherry bark is an example of an expectorant found in nature, and this herbal medicine has been used for a very long time in the treatment of coughs. The medication guaifenesin is a common ingredient in cough syrups and similar products. Often, an expectorant will be combined with a product which is designed to ease irritation, because the respiratory tract is often irritated and sore when people suffer from a cough.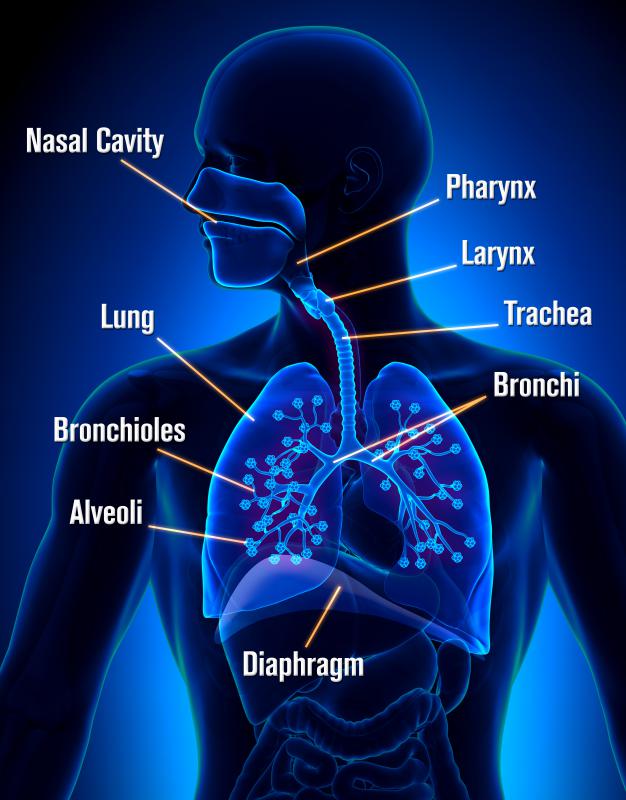 These medications help people cough productively, meaning that they bring up sputum, mucus, and phlegm when they cough. People who suffer from dry coughs and hacking fits sometimes find that an expectorant helps to resolve the cough because it loosens and eliminates the mucus causing all the irritation which leads to coughing. However, this drug is not a cough suppressant; the goal is to help people bring up mucus, not to stop them from coughing. However, when someone's cough is caused by a buildup of mucus, once all the mucus has been expelled with the help of an expectorant, the coughing should stop.
Many expectorants are available over the counter at drug stores, and some are available by prescription. People managing a cough with home care should see a doctor if the coughing becomes severe, the patient has difficulty breathing, or the patient coughs so hard that she or he becomes out of breath. It is also a good idea to see a doctor if a patient experiences an altered level of consciousness, fever, or extreme sluggishness in conjunction with a cough.
Prescriptions should be used as directed, and medications prescribed with them should also be used as directed. If patients experience new symptoms, have difficult breathing, or feel like they are not recovering, it may be advisable to contact a doctor for another appointment to explore the causes of the cough and associated problems a bit more closely. Sometimes a recurrent cough is caused by something other than mucus-related irritation in the airways.
By: Ljupco Smokovski

Expectorants are used to help people recover from coughs.

By: Cyrus Cornell

Some cough syrups contain expectorants, which makes coughs more productive.

By: decade3d

The respiratory tract can become irritated and sore when a person has a cough.