What is a Cough Expectorant?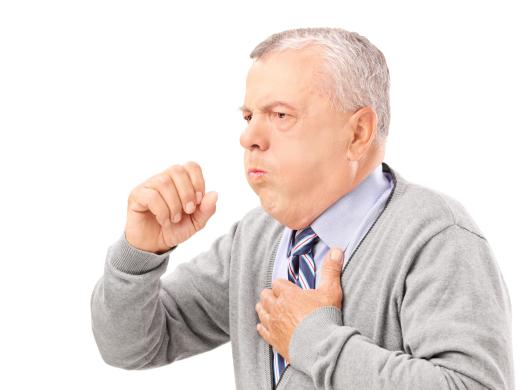 A cough expectorant helps to thin mucus in a person's airway to treat a cough. Expectorants are used to treat coughs that result from congestion, not dry or tickly coughs. Guaifenesin is a common cough expectorant available over the counter. Other types of expectorant are available by prescription.
Some people may argue that a cough expectorant is not needed to treat a cough, because the condition usually clears up on its own. Some also believe that drinking enough water has the same effect on mucus as taking an expectorant such as guaifenesin. In some cases, a cough expectorant is combined with other medications, such as a decongestant or cough suppressant designed to treat symptoms a person may not actually be experiencing; this may lead to an unpleasant drug interaction if a person is taking another medication at the same time.
There are several varieties of over-the-counter cough expectorant available. The medicine comes in liquid form, in regular or extended-release pills or capsules, and as dissolving granules. Dosage of the medication depends on the form, strength and who is taking it. Children need less cough expectorant than adults, and a person taking a regular pill will need a smaller dose more frequently than a person taking an extended release pill.
Cough expectorants can cause some side effects in adults, though these are usually rare. Side effects include stomach pain, nausea, and diarrhea. In some cases, doctors recommend taking the medicine with food to prevent the side effects. A person should also drink a full glass of water when taking the pill form of the medicine to help it work more effectively and to reduce the risk of side effects.
Guaifenesin should not be given to children under 4 years of age. The risk of accidental overdose, which can lead to death, is too high, as is the risk of serious side effects. Parents should be extra careful when giving children under age 12 cough expectorants, as well. It is recommended that a child not take an adult version of guaifenesin or other cough expectorant.
Before taking a cough expectorant, a person should check with a doctor if he or she suffers from asthma or emphysema or smokes. Such a patient may need a stronger medicine. Pregnant or breastfeeding women may want to avoid taking expectorants, because there have not been adequate studies done on the risk to the fetus or infant. If the cough has not cleared up within a week, a person should stop taking the medicine and see a doctor, because he or she could have a more severe condition that warrants additional treatment.


By: Ljupco Smokovski

Expectorants are used to help people recover from coughs.

By: JPC-PROD

A cough expectorant syrup is used to help patients cough up mucus.

By: Temych

Using a plastic spoon is a good way to administer liquid medicine to small children.

By: Arpad Nagy-Bagoly

It is not recommended that children take cough expectorants intended for adults.