How Do I Make Bath Fizzies?
Making bath fizzies, also known as bath bombs, at home can provide you with a spa-like experience in the tub without purchasing more expensive, manufactured products from specialty stores. The two main components of bath bombs are baking soda and citric acid. You can also add skin-softening ingredients such as cornstarch and salt, as well as fragrance oils and regular oil for scent and moisture. The ingredients should be carefully mixed together and placed into molds to set so that they can completely dry before storing or using them.
When bath fizzies are placed in a tub full of water, they dissipate and create tiny bubbles throughout the water, scenting it and releasing skin-softening ingredients. The fizz is caused by a chemical reaction between the baking soda and citric acid. No matter what size of batch you make or the other ingredients that you include, the ratio between the baking soda and citric acid should always be two to one for optimal fizziness.
You can also add cornstarch and a variety of salts to bath fizzies to soften the bathtub water and nourish your skin. Epsom salt, sea salt, and Dead Sea salt are all popular ingredients. In general, you should add as much cornstarch and salt to the mixture as you do citric acid. For example, if you use 4 cups (480 grams) of baking soda and 2 cups (600 grams) of citric acid, you should add 2 cups (240 grams) of cornstarch and 2 cups (600 grams) of salt, noting that the metric equivalents vary based on the consistency of the product. You can mix any type of salt together to equal the necessary amount.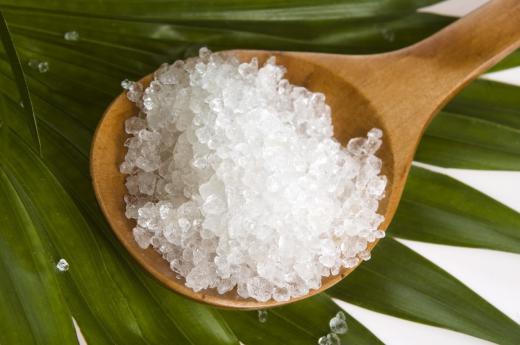 A few drops of skin-safe fragrance oil can lightly scent your bath fizzies. These products are typically sold at health food stores and specifically labeled for use on the skin. It is important not to use oils meant for home fragrance, as they are likely to irritate your skin. Regular, light-colored oils can also be used to make a moisturizing bath bomb, including grapeseed, coconut, or jojoba oils. In general, keep the fragranced oil to 1 or 2 teaspoons (5 to 10 mL) and the clear oil to 2 to 3 tablespoons (30 to 45 mL), depending on the size of the batch.
To make the bath fizzies, mix the dry ingredients thoroughly in a glass bowel. Avoid using metal, as it can change the chemical reaction between the baking soda and citric acid. Then, place all of the wet ingredients in a clean spray bottle and mix them thoroughly, adding 1 to 2 tablespoons (5 to 10 mL) of water to thin them out. Once everything is mixed, spray the wet ingredients into the center of the dry ingredients and whisk them together quickly to prevent the dry ingredients from automatically fizzing. Continue this process until everything is incorporated.
You can then take small handfuls of the bath bomb mixture and press them into a mold, using anything from a muffin pan to plastic eggs that open in the center. Let the bath fizzies sit in the mold for two to three minutes, and then remove them to a clean, solid surface and allow them to dry for three to four hours, preferably overnight. If any of the molds come out crumbly, spritz them once with water and reshape them, placing them back into the mold. Store the bath fizzies in a dry location until you are ready to use them.
AS FEATURED ON:
AS FEATURED ON:

By: Tatty

Bath fizzies are dropped into a tub of water and dissipate.

By: joanna wnuk

Epsom salt, sea salt, and Dead Sea salt are all popular ingredients one can add to bath fizzies.

By: mady70

Baking soda and citric acid can be used to make bath fizzies.

By: Kasia Biel

Bath fizzies are also called bath bombs.

By: Rido

Skin softening ingredients like cornstarch and salt may be added to homemade bath bombs.