How Do I Make a Fizzy Bath Bomb?
A fizzy bath bomb is basically a mixture of bath salts formed into a tight, dense, little ball. When tossed into hot bath water, bath bombs fizz apart and usually give the water color, scent, and skin-nourishing benefits. If you're looking for an inexpensive way to relax, a fizzy bath bomb may be just the ticket. To make your own fizzy bath bomb, you need to carefully mix together the right proportions of citric acid, baking soda, witch hazel extract, scent, and color. Once mixed, you must press the mixture into the mold of your choice and let it set for at least 24 hours. Shorter setting times may cause the bombs to crumble.
Mixing bath bombs can be a tricky process that must be finished without long pauses between the steps. It is usually best to have all of your ingredients and tools ready before you start mixing. Citric acid is a white powder that tastes very sour and helps hold these bombs together. Baking soda causes the fizzing action and is a catalyst for carrying your chosen scents and oils into the bathwater. Witch hazel extract is a spicy-smelling substance that activates the citric acid in a fizzy bath bomb mixture and causes it to clump.
Oils in a fizzy bath bomb may include scented essential oils and moisturizing kinds, like olive, jojoba, or safflower oil. For coloring, you may choose to use ordinary food coloring or the more concentrated dyes used to color fondant and frosting. You will also need measuring spoons, a whisk, rubber gloves, a plastic spray bottle, and some kind of mold. Candy molds and hollow plastic Christmas balls work well for shaping bath bombs.
The usual mixture for homemade fizzy bath bombs starts with 1 part baking soda and .5 part citric acid. It is essential to whisk these two ingredients together for at least one minute, ensuring that they are thoroughly blended. Otherwise, the bombs may not dissolve properly in the water. After that, you may add a spoonful or two of oil, and up to 20 drops of food coloring or fondant dye. Do not start stirring the mixture yet, however.
It is recommended that you wear rubber gloves for the next step to protect your hands from the concentrated bath bomb ingredients. Fill a spray bottle with witch hazel extract and gently begin stirring the fizzy bath bomb mixture with a gloved hand. With the other hand, spritz the mixture with witch hazel extract. The mixture should begin forming large clumps, and become thicker and harder to stir.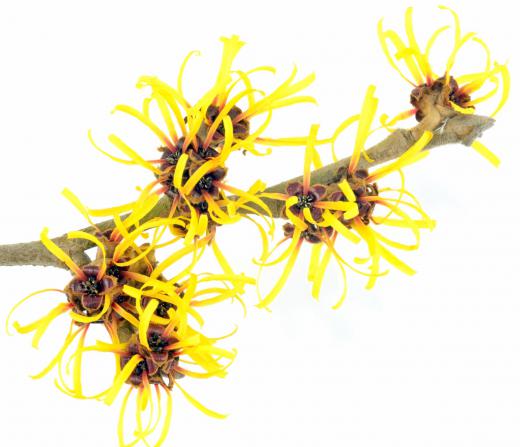 When thick, scoop up a little of the fizzy bath bomb mixture and press it into the molds of your choice. Soap and candy molds come in dozens of different shapes and sizes for all kinds of tastes. You may also simply use hollow, round plastic Christmas ornaments, often found in craft stores. Once the molds are packed full of the mixture, allow the bombs to set for 24 hours. When done, gently flip each mold over and tap it lightly with your fingers. The mold should release the bath bombs easily.
AS FEATURED ON:
AS FEATURED ON:

By: Jiri Hera

Bath salts, which can be used to make a bath bomb.

By: Tamara Kulikova

Oil from the safflower plant is often used in bath bombs.

By: chungking

A bottle of safflower oil, which can be used to make bath bombs.

By: dianamower

A spray bottle containing witch hazel is used when making bath fizzies.

By: Kasia Biel

A mold may be needed to make a bath bomb into the desired shape, typically a ball.

By: Rido

Soft skin can be an added bonus of using bath bombs.