How do I Make a Modern Living Room?
The best way to create a modern living room is to plan an uncluttered look with bigger, clean-lined furnishings rather than many small pieces. Too many details, such as trims, edgings and borders, tend to work against making a modern looking room. You should use the biggest furniture and accent pieces that suit the scale of your living room. Having a clear color scheme with a maximum of three main colors in addition to neutrals can help create a modern look.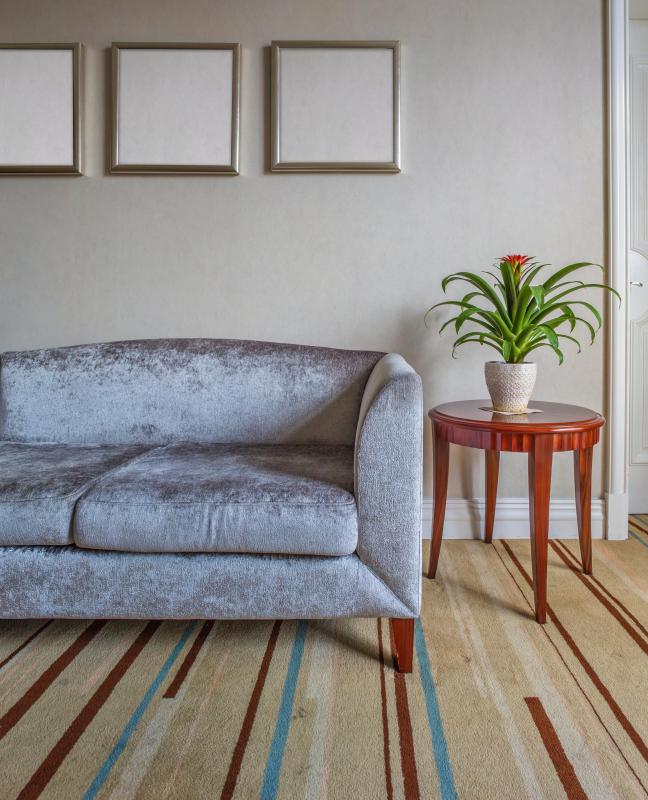 While it is possible to use more than three main colors when making a modern living room, too many different shades can detract from the look. Modern rooms should make a creative impact, so both pattern and color should be carefully planned. Whereas small or medium printed fabrics of different types such as florals, stripes and checks are often combined in traditional or country style living rooms, larger prints in a limited amount make a more modern statement. An abstract design on a fabric can work in a modern living room in limited amounts, such as on a few large throw pillows and a rug. Adding print curtains on top of that may be too much detail, so it's best to start with a print you love and use it in only two places in the room before deciding whether to add another pattern.
Creative artwork is ideal in modern living rooms, yet the same principle of a larger size and limited number of pieces apply. While a cluster of small pictures or mirrors may work in a modern space, it usually only works on an accent wall rather than above a sofa. The concept of an accent wall, whether it displays artwork or is painted a solid accent color, is important when making a modern living room. Rather than using the traditional painting technique of having the entire room in one color, except the ceiling, a modern living room is best with neutral paint colors and an accent wall in the featured color. Large wall art tends to work best.
Of course, the furniture you use should be modern rather than traditional or country in style. Clean, geometrical lines with glass and metal really makes a modern living room possible. If you prefer wood furniture, this if fine if you keep to non-detailed pieces. A lot of carving and fussy details don't express a modern look. Seating should be detail-free and as large as possible to suit the room size.