How do I get Phlebotomy Training?
Phlebotomy training can be acquired through a number of different training facilities. Some future phlebotomists are able to train on the job, but others will want to ensure the training program selected is accredited by a reputable agency. There are many companies that offer phlebotomy certification, but some are not as reputable as others. The following nationally recognized agencies are known to have comprehensive accrediting criteria for phlebotomy programs: American Certification Agency (ACA), National Center for Competency Testing (NCCT), American Medical Technologists (AMT), National Credentialing Agency (NCA), American Society for Clinical Pathology (ASCP), National Healthcareer Association (NHA).
Most training programs are two year programs at technical training schools, community colleges, or hospitals. To gain admittance to a phlebotomy training program, one must first complete high school or a GED. Each certification agency and state will vary slightly in the requirements, but a phlebotomist will typically need to complete about 120 hours of accredited classroom phlebotomy training, and about 120 hours of practical experience.
During a phlebotomy training program, each student should complete at least 50 successful venipunctures and 25 successful capillary punctures. That is a typical requirement for obtaining certification or a license, so it's important to select a school that will guaranty the opportunity to fulfill that requirement. Courses that should be included in a training program are anatomy, physiology, blood draw procedures, patient safety procedures, handling blood specimens, collection procedures, patient care, quality assurance, patient privacy, and hospital legal issues.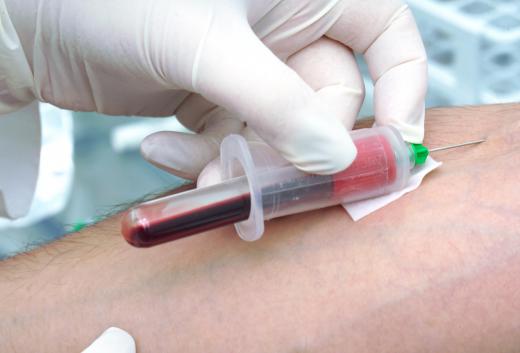 For those who are already working in a field requiring blood drawing who want to become certified phlebotomists, work experience may be accepted in lieu of classroom training hours. Typically, 1040 hours of work experience within the last three years can be substituted, but the work hours must come from an approved health care facility that collects, examines, or transports materials derived from the human body. The candidate will still need at least 50 successful venipunctures and 25 successful capillary punctures.
Each state and certification agency has different requirements for the regulation of the phlebotomy profession, but most require continuing education in addition to the training requirements to begin a career in phlebotomy or other medical technology profession. This continuing education is required to re-certify when a certification period expires, and it generally involves training credits in safety as well as an option for specialty training. These education credits can be earned at any of the accredited phlebotomy training programs.
AS FEATURED ON:
AS FEATURED ON:

By: Ljupco Smokovski

Most phlebotomists train for about 120 hours in the classroom before beginning to gain practical experience.

By: Tim UR

The best phlebotomy training programs offer in-depth instruction, including hands on experience with patients.