Phlebotomy is the act of drawing blood from a patient through the use of medical needles. The blood extracted through the needle is then studied by a physician in order to determine the patient's health condition. The blood may also be used in other patients in the form of a blood transfusion. A phlebotomist is a medical professional who draws blood from patients for these specific purposes.
Some people may need to receive regular phlebotomy. For example, people who have an overabundance of iron in the blood have a condition called hemochromatosis. These patients require the removal of blood on a regular basis. Those with a condition called polycythemia have bodies that produce too many red blood cells. Patients with this condition need to have frequent phlebotomy as well.
After a phlebotomist removes a small amount of blood from a patient's body, the patient may sometimes feel dizzy or tired. Some patients feel frightened when a phlebotomist must draw blood, and some cry. To help calm the fears of patients, phlebotomists must possess a calm, professional manner. They must be able to help patients feel more at ease as the blood is removed.
People who wish to become phlebotomists can attend local colleges or vocational schools in order to receive the necessary training. At times, employers will offer on-the-job training, but applicants with formal education this field are preferred. Typical courses include anatomy and physiology, lab safety, blood sampling procedures, and courses that teach how cells and the blood are affected by infection and disease.
Students will usually take a CPR course as well. They will receive hands-on training performing skin punctures and bloodletting through veins. Graduates of an accredited phlebotomy program earn a diploma or certificate.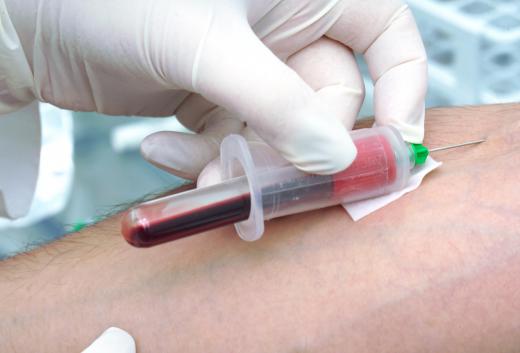 Most U.S. employers require that phlebotomists are certified by American Medical Technologists (AMT), the American Society for Phlebotomy Technicians (ASPT), or the American Society for Clinical Pathology (ASCP). Each organization offers testing and national certification. Medical professionals who practice phlebotomy must renew certification on an annual basis. Once a phlebotomist begins working in the field, he or she will be responsible for a variety of tasks. Speaking with patients about procedures, taking blood from patients, updating medical records, sterilizing medical equipment, taking the patient's blood pressure, and sending blood and fecal samples to medical labs are all part of the job duties of a phlebotomist.
AS FEATURED ON:
AS FEATURED ON:

By: inkaone

Phlebotomy is the use of medical needles to draw blood.

By: luchshen

Phlebotomists collect blood samples that are then passed on to a testing laboratory.

By: Tim UR

Phlebotomists must perform venipunctures while taking precautions to avoid infection.