How Do I Fix a Sagging Neck?
A sagging neck is marked by the appearance of loose, wrinkled-looking skin under the chin area. Often, this occurs as people age, but it can also develop after a person has lost a good deal of weight. You can try exercises to tone the area if the platysma muscle, which extends from the chin area to the chest, is at fault. If your main problem is loose skin, however, you might have to consider surgery. Some people do try using skin creams to fix this problem, but that often results in disappointment.
You can attempt exercise to fix a sagging neck. The exercises that work on this area involve the platysma muscle that extends from your chest up to your chin. You can work this muscle by looking straight ahead and positioning your chin parallel to the floor. Then, you'll need to move your head backward until you are staring at the ceiling. After holding your neck in this position for several seconds, you can move back to the starting position and begin the exercise again.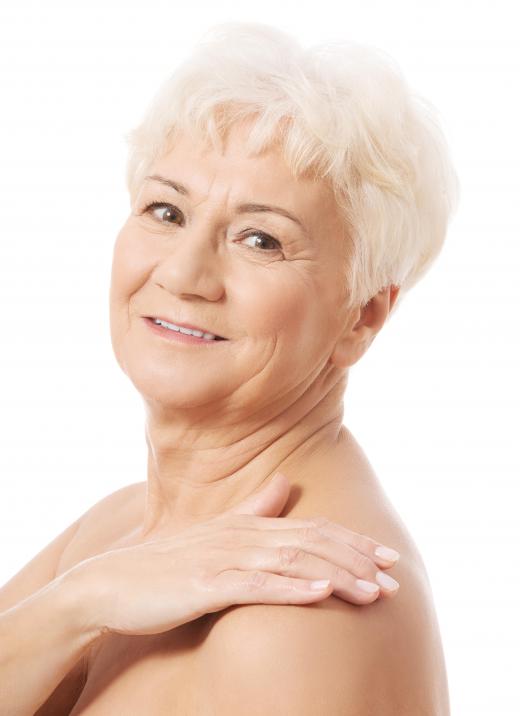 In many cases, however, such exercises fail to produce significant results. The reason they often fail is due to another primary cause of a sagging neck; when the sagging in this area is caused by loose skin, exercising is unlikely to fix it. If you believe muscle tissue is playing a significant part in the look of this area, you might want to attempt exercises and wait a reasonable amount of time for results. In the event that you put in diligent effort but do not obtain results, you may do well to seek another option.
Often, medical intervention is necessary to fix a sagging neck, and one common method is referred to as neck lift surgery. With is type of surgery, a doctor will cut into your skin and then re-tighten it. Excess skin that is contributing to a sagging neck is usually trimmed away during the procedure. Sometimes a surgeon also works to remove part of the platysma muscle during this operation. Once he has removed a portion of the muscle, he can then tighten the remaining muscle tissue and cut away any loose skin.
There are many creams that claim to tighten the skin in this area, but most are only proven as moisturizers. As such, using such products often leads to disappointment. Instead, you might decide to put effort into consuming a nutrient-rich diet for the promotion of skin health. While this is unlikely to fix a current skin issue, it may help slow the development of additional problems.
AS FEATURED ON:
AS FEATURED ON:

By: Piotr Marcinski

Neck lifting can make a significant difference in the self-esteem of an individual.

By: WavebreakmediaMicro

Plastic surgery may help treat a sagging neck.

By: photodsotiroff

Skin creams are sometimes used to fix a sagging neck.

By: olly

Various neck exercises can help to treat a sagging neck.