How Do I Choose the Best Vintage Bathroom Accessories?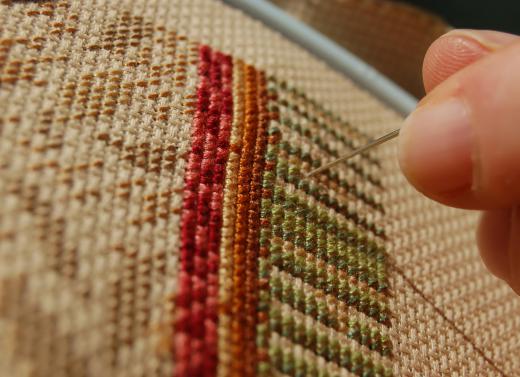 Using vintage bathroom accessories to decorate is one way to make your room unique. Select items to create a specific atmosphere, such as a feminine, masculine or baby theme. Select items based on color, theme and style. Some vintage bathroom accessories can be used, such as embroidered hand towels, while others, such as a silver-plated comb and brush set, are best for display purposes.
Perfume bottles come in a variety of shapes and colors and offer a feminine touch to your vintage bathroom accessories. Choose vintage manicure and comb and brush sets to display. If a complete set is hard to come by, consider buying a few partial sets and combining them for a shadow box display. Hand-held mirrors are also vintage bathroom accessories that will promote a feminine atmosphere. The mirrors are often marred, so it is best to select mirrors with fancy backs so you can display them with the mirror facing down.
Purchase old, glass medicine bottles to display on a shelf, window ledge or counter. Choose bottles with interesting names embossed on them, or in colors that match your decor. For safety, the bottles' contents should be discarded. For added color, fill empty clear bottles with colored water.
Create a more masculine feel by choosing vintage bathroom accessories geared toward males, such as shaving supplies. Choose vintage razors, razor sharpening straps and mustache cups to display. Select old tins and bottles that advertise shaving tonics and other male hygiene products. Choose products that match your decor and are in good condition. Some worn or rusty tins are appropriate if you are trying to create a more rustic atmosphere.
Add a younger atmosphere by displaying vintage baby items, such as old powder tins, diaper pins and baby dresser sets. Some old cardboard and metal product boxes used for cotton swabs or cotton balls can be displayed, along with vintage baby shoes and outfits. Vintage baby shoes and outfits are available in assorted colors, so choose these accessories to provide splashes of color. They can be framed, placed on vintage hangers, or even dangled from a short clothes line by using wood clothes pins or vintage pink and blue baby clothes pins.
Vintage bathroom accessories can be used to replace modern fixtures, such as towel racks, faucet fixtures and hooks. Choose rust-free, functional items that you can easily use every day in your bathroom. Avoid broken or hard-to-use fixtures, as these can be dangerous or impractical. Select vintage cabinet knobs and draw pulls to complete your bathroom's nostalgic look. Be sure to measure existing knobs to ensure you select appropriately-sized replacement knobs.
To decorate your bathroom with various vintage textiles, choose hand-hooked wool rugs, embroidered hand towels and needlepoint chair seats. Select items which are not damaged, stained or worn. Fabric items which will be used should be durable and able to be washed. More fragile items should be displayed rather than used.


By: Steven Latour

Needlepoint chair seats may be used to decorate a vintage style bathroom.