How Do I Choose the Best Sugar Cookie Frosting?
Choosing the best sugar cookie frosting for your needs usually begins with identifying the various types of icings available for sugar cookies. Once you are armed with this knowledge, you can identify and choose the one that provides the right consistency for your decorating needs. Other things to consider include any needs related to flavoring or coloring the icing, and the tastes and preferences of the cookie recipients.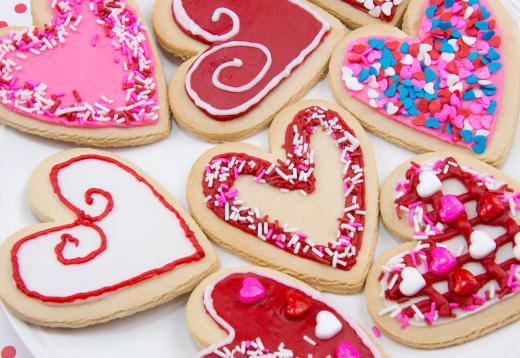 There are many sugar cookie frosting options available for both the novice and professional cookie designer. Among the most popular are those that can be easily made from scratch at home, such as royal and buttercream icings. Ingredients commonly found in the pantry and refrigerator, such as confectioners' sugar and milk, make these simple and quick to prepare. Other options include store-bought, packaged frosting in tubs and piping bags. Even frosting typically reserved for cakes and cupcakes can be used to frost your cookie creations.
When choosing the best sugar cookie frosting, you need to take into account the decorating plans you have for your cookies. For instance, a simple glaze may work best if you want a quick and simple decoration. In contrast, a thicker frosting is generally necessary if you plan to create a design and pipe on different detailed elements, such as facial features on a character cookie.
Consistency is important when evaluating the various sugar cookie frosting options. Royal icing, a traditional cookie frosting, when made from scratch can easily be adapted to various consistencies, making it appropriate for a wide range of decorating needs. On the other hand, store-bought frosting may be difficult to alter and should be purchased and used as is for best results.
Beyond consistency, you need to take into account the other properties of the icing you choose. For instance, some frosting is easily adaptable by adding coloring and flavoring to achieve the desired results. This is true of royal icing and buttercream frosting, since you can easily add food coloring and flavoring extracts to either to create beautiful and delicious sugar cookies.
The tastes and preferences of the cookie recipients should also be taken into account when choosing a sugar cookie frosting. With so many flavoring options available, such as vanilla and almond, catering to your recipient should be simple. In addition, the younger set may prefer a colorful, sugary concoction, while older adults may prefer simple and elegant designs and frosting options.


By: cobraphoto

Many sugar cookie frostings can easily be made from scratch at home.

By: Globalphotogroup

Royal icing is very adaptable, and can be colored and flavored in different ways.