How do I Choose the Best Neck Brace?
Choosing a neck brace, also known as a cervical collar, depends on the type of injury and how important it is to keep the neck immobile so the patient cannot move the head from side to side. For small sprains or minor injuries, a soft neck brace is typically sufficient to help relieve pain and allow the neck to heal properly. For more serious injuries, particularly those that also affect the spin, a rigid brace is required to prevent any movement of the head and neck while the injury heals.
Soft neck braces are made from rubber and foam. They feel more comfortable to the patient and allow more movement than the rigid neck brace. The soft brace is also removable. This brace works well for minor injuries but does not provide adequate support for more serious problems.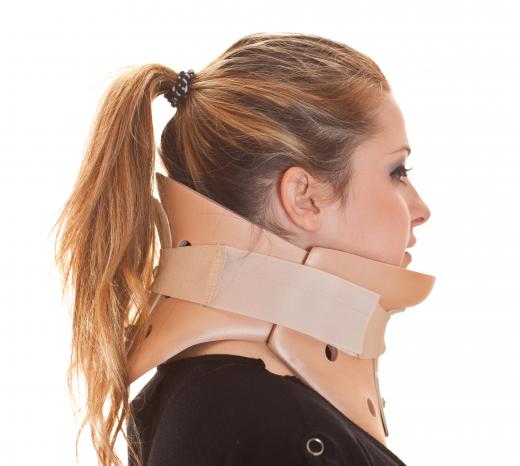 The hard neck brace provides rigid support and is designed to be worn at all times. It limits movements of the head and provides a great deal of support as the neck and spine heal. Made of a stiff plastic, the hard neck brace should have adequate padding and the doctor should check for a proper fit to ensure the patient's comfort.
When fitting a neck brace, it should provide padding on the inside and should not pinch or rub uncomfortably against the skin. The chin should easily rest on the neck brace and the patient should not feel pain or discomfort. The brace should fit snugly without feeling unnecessarily tight. It should apply just enough pressure to support the head and prevent movement.
In the most extreme situations, the patient may need to wear a brace which prevents all head movements and attaches to the patient's skull with small metal pins. Though it does not cause pain, the brace resists movement and is more restrictive than any other type of neck brace. Often referred to as a halo brace, this type is for the most serious neck and spinal injuries. In these types of injuries, it is crucial for the neck to heal properly to avoid permanent, long-lasting damage.
Patients should check in frequently with their doctors to check how well their neck is recovering. If pain occurs or the brace becomes uncomfortable, the patient should immediately contact her doctor. He can fix the brace to relieve the pain and make the experience more comfortable for the patient.
AS FEATURED ON:
AS FEATURED ON:

By: ESLINE

A woman wearing a neck brace.

By: STOLBTSOV ALEXANDRE

Soft cervical collars may be more comfortable for a person to wear.

By: shefkate

Soft neck braces are best for minor injuries.

By: JPC-PROD

A gel pack may be used to heal the pain associated with an injured neck.

By: Kirsty Pargeter

Halo braces may be worn to treat spinal injuries.