How Do I Choose the Best Dog Tag Engraver?
When looking for the best dog tag engraver, you may want to consider a number of factors. People who want to engrave dogs tags themselves have several different options, such as using a machine to engrave metal tags or doing it by hand. Other people who want dog tags engraved may not want or have the time to do it themselves, and may choose instead to utilize the services of a professional engraver.
You may save money by using dog tag engraver hand tools. The most common tool used for dog tags is a hand engraver, which allows you to simply scratch words into a metal tag. If you would prefer a stamped tag with raised words and symbols, you may need a tool for stamping or punching the metal. Some people may not want to use either method because they do not feel they have the time or ability to make the engraving that they want.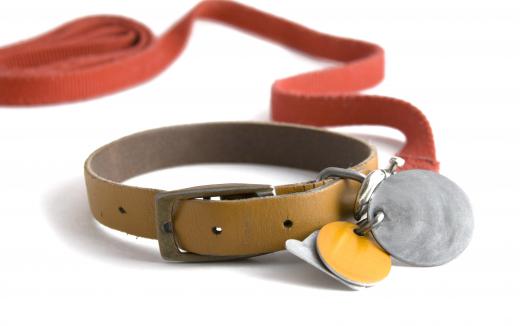 Some people may choose to purchase a dog tag engraver device. The price of such a machine may be prohibitive for some, but it could be worth the price if you intend to use it frequently. Many people like to find a pet store or other location that has a machine available for public use.
Another option is to use a dog tag engraver service. The cheapest services usually offer a standard price for a particular number of words, lines, or characters on metal tags. If you are looking for simple engraving, you may want to consider ordering from a company that mass produces engraved dog tags because they will likely be less expensive.
Custom engravings made by a service are also available, but a custom order usually costs more. It is important to verify the service you want to use and find out if they have a refund or return policy to ensure your satisfaction with the tags. You may also have to wait for customized tags to arrive in the mail.
A popular method of engraving is to have it done by a professional engraver. If there is not a person who can professionally engrave dog tags in your area, you may have to travel some distance to find one. You may want to factor in the cost of traveling when looking for a professional. People typically expect a professional engraver to cost more than an engraving service, but if you want highly personalized designs, utilizing a professional engraver may be the best option.
AS FEATURED ON:
AS FEATURED ON:

By: Alexey Stiop

A dog's tags are typically worn on its collar.