How Do I Choose the Best Cheap Home Gym?
Daily exercise is important for maintaining good health, but some people may not have the time or money to join a fitness center. If this is the case, you can still work out by creating a place for exercise at home. The best cheap home gym is one that has the equipment necessary for you to meet your fitness goals without spending a lot of money. A home can be outfitted inexpensively with weights and an exercise mat, and many deals can be found on secondhand exercise equipment, such as a treadmill or stationary bike. You may also choose to place a television and DVD player in a home gym so you can exercise along with a recorded workout program.
A home gym does not have to be large. It can be set up in a spare bedroom, a basement, a garage, or even in a corner of a room if the home is lacking in available space. An area with exercise machines is usually a permanent fixture, but if you are only using weights, you might be able to put those away in a closet when not in use.
A whole room of exercise equipment is not necessary to create a cheap home gym. Many people can achieve their fitness goals by using weights and doing strength training exercises. Hand weights can usually be found inexpensively at many stores and online shops. Other gym items, such as resistance bands or yoga mats, are also typically affordable.
If there is room in your home, an exercise machine is a great piece of equipment to have in a cheap home gym. A brand new treadmill or elliptical trainer is very expensive, but it is possible to find secondhand gear at a fraction of the cost of a new machine. The best places to look for this used exercise equipment when setting up a cheap home gym is at garage sales and online classified sites. Most people only need a cardio exercise machine, but some may also decide to buy one designed for lifting weights.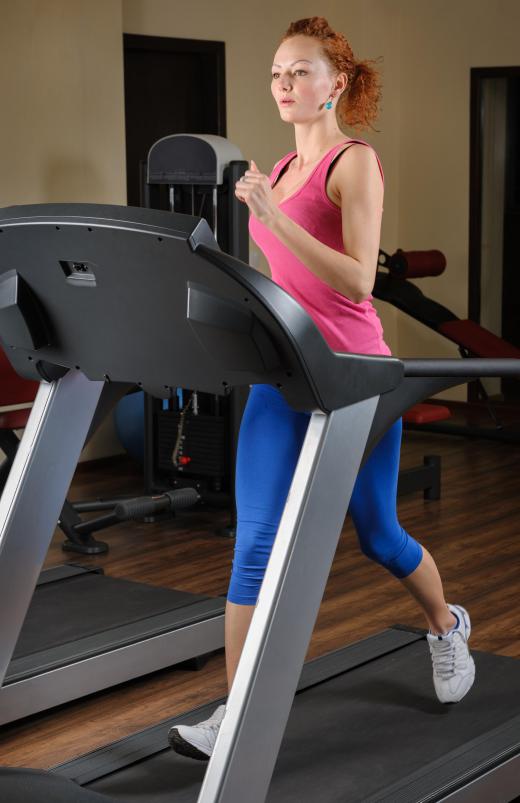 One of the better ways to create a cheap home gym is to place a television with a DVD player in the space. There are a wide variety of exercise programs available on DVD, which can eliminate the need for exercise machinery. All types of exercise DVDs are available, including aerobics, pilates, yoga, and kickboxing. In addition to being inexpensive, most of these programs are designed by fitness professionals who can guide an person through an effective exercise routine.
AS FEATURED ON:
AS FEATURED ON:

By: william87

Elevated risers are a cheaper alternative to a stair master in a home gym.

By: starush

A second-hand treadmill is an inexpensive addition to a home gym.

By: Monteleone

DVDs are available with programs for doing kickboxing workouts at home.