How do I Choose the Best Anti-Aging Makeup?
Anti-aging makeup is commonly available in various formulas, consistencies and shades. Choosing the best one often requires familiarity with ingredients and diligent label-reading. People should also be aware of their own skin type and tone to enhance their appearance with makeup tips and strategies. To compliment anti-aging cosmetics, people may need skincare regimens with specially-formulated cleansers and moisturizers. Additional cosmetic products may help to reduce aging signs and restore skin elasticity.
One of the first places to start with selecting anti-aging makeup is foundation. The right foundation may help smooth lines and wrinkles, even skin tone and also hydrate skin. Vitamins A, B5, C, D and K are foundation ingredients that may help nourish the skin and improve appearance. Micas are reflective minerals that may help to conceal wrinkles as well.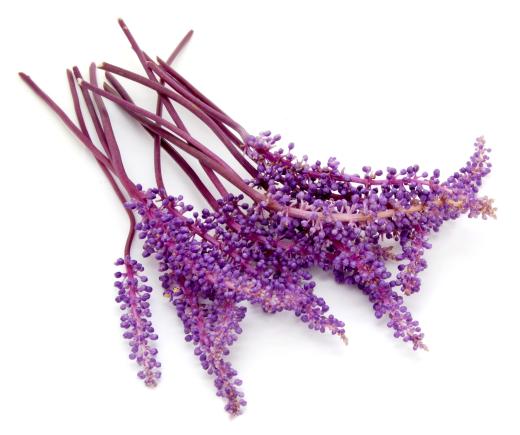 Botanical ingredients found in some anti-aging foundations may also provide benefits to the skin. Lavender, for example, may tone down redness and stimulate cell regeneration. Palmarosa may calm skin and reduce the appearance of lines and wrinkles. Green tea extract works in a similar manner to reduce under eye puffiness and supply anti-oxidants to the skin.
An extensive variety of ingredients enhance the effects of anti-aging makeup. The best one must meet an individual's particular skin needs and provide the desired coverage. Mineral makeup may offer natural-looking coverage that is lightweight in texture. Some mineral products may also be free of perfumes, fillers and dyes, which can cause skin irritation.
Liquid foundation provides medium coverage that may cover fine lines and balance uneven skin tones, depending on the formula. Oily skin may require water-based versions, while dry skin may work well with oil-based formulas. Full coverage may be available from matte, stick and cream foundations. These may help minimize the appearance of under-eye circles, deep wrinkles and skin spots. Foundations should be selected to closely match skin tone for a natural appearance.
There are many cheek and lip color products that have anti-aging qualities. Blush with pure mineral pigments may work well on mature skin to prevent irritation and conceal wrinkles. Ingredients to avoid in mineral blush include bismuth oxychloride, which may clog pores and leave an unnatural finish, and talc, which may accentuate lines and cause dry skin. Lipstick or lip gloss that contains vitamin E may help smooth lips, making them look younger.
Application techniques may also complement anti-aging makeup. When blush is applied very high on the apples of cheeks, it may create the appearance of a face-lift. Shimmering bronzer that is swept across the cheekbone may also help to lift cheeks. Plumping lips may create a more youthful appearance as well. This may be achieved by applying a touch of gloss on the inside of the bottom lip after lipstick is layered.
Some cleansers and moisturizers may also enhance the effect of anti-aging makeup. Products with alpha hydroxides and beta hydroxides often remove the top layer of skin, which may in turn reduce the appearance of fine lines. Eye treatment creams and night serums may also brighten eye areas and firm skin.
AS FEATURED ON:
AS FEATURED ON:

By: Kimberly Reinick

Lavender may decrease redness and promote cell regeneration.

By: Arpad Nagy-Bagoly

Green tea extract reduces under eye puffiness.

By: Jan S.

The right foundation may help smooth lines and wrinkles, even skin tone and also hydrate skin.